These spicy gingerbread cookies with lemon icing are perfectly sweet, with lots of depth from molasses and heat from a mix of cinnamon, chili powder, and fresh ground pepper. They're also really fun to make with kids. Head below for some simple tips for making rolled cookies with little ones.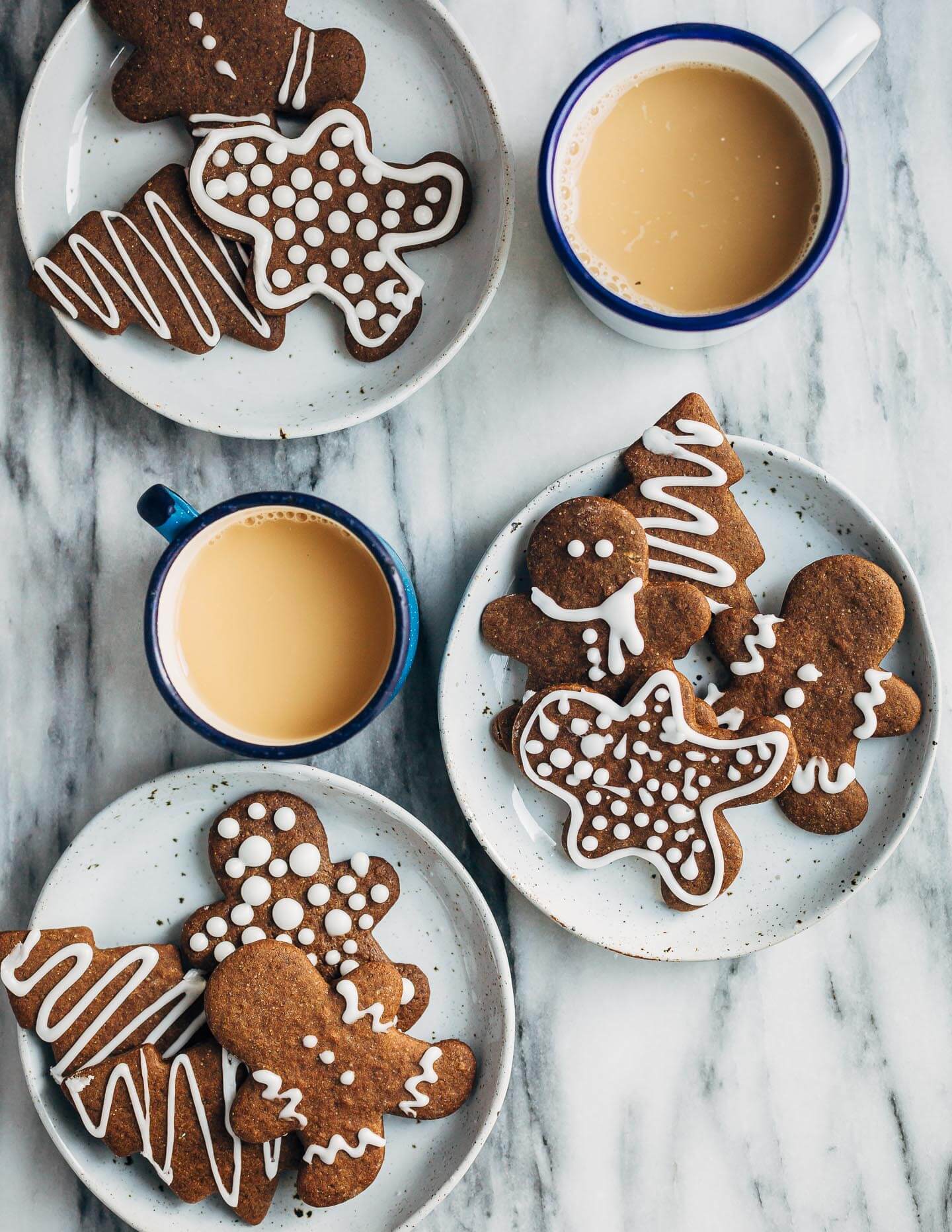 At some point during this holiday season, I had a stunning realization. My baby, the person pictured here who is clearly quite tiny, is really not a baby anymore (reader, she's 8). I've been very chill and cool about her big sister getting older, because you see, I also have a baby. Except suddenly, I don't.
This has made a fleeting season feel even more ephemeral. So in the midst of errands and dishes and the other life stuff, I'm doing my best to pause and enjoy the little moments. I'm also saying yes to making all possible cookies.
I'd been under the impression that my littlest liked decorating sugar cookies, but when she told me that gingerbread cookies were her favorite, I knew what to do. First, I updated my traditional gingerbread recipe to add sweetness and a little more molasses-y depth. Then we made the dough, chilled it thoroughly, and baked some spicy gingerbread cookies.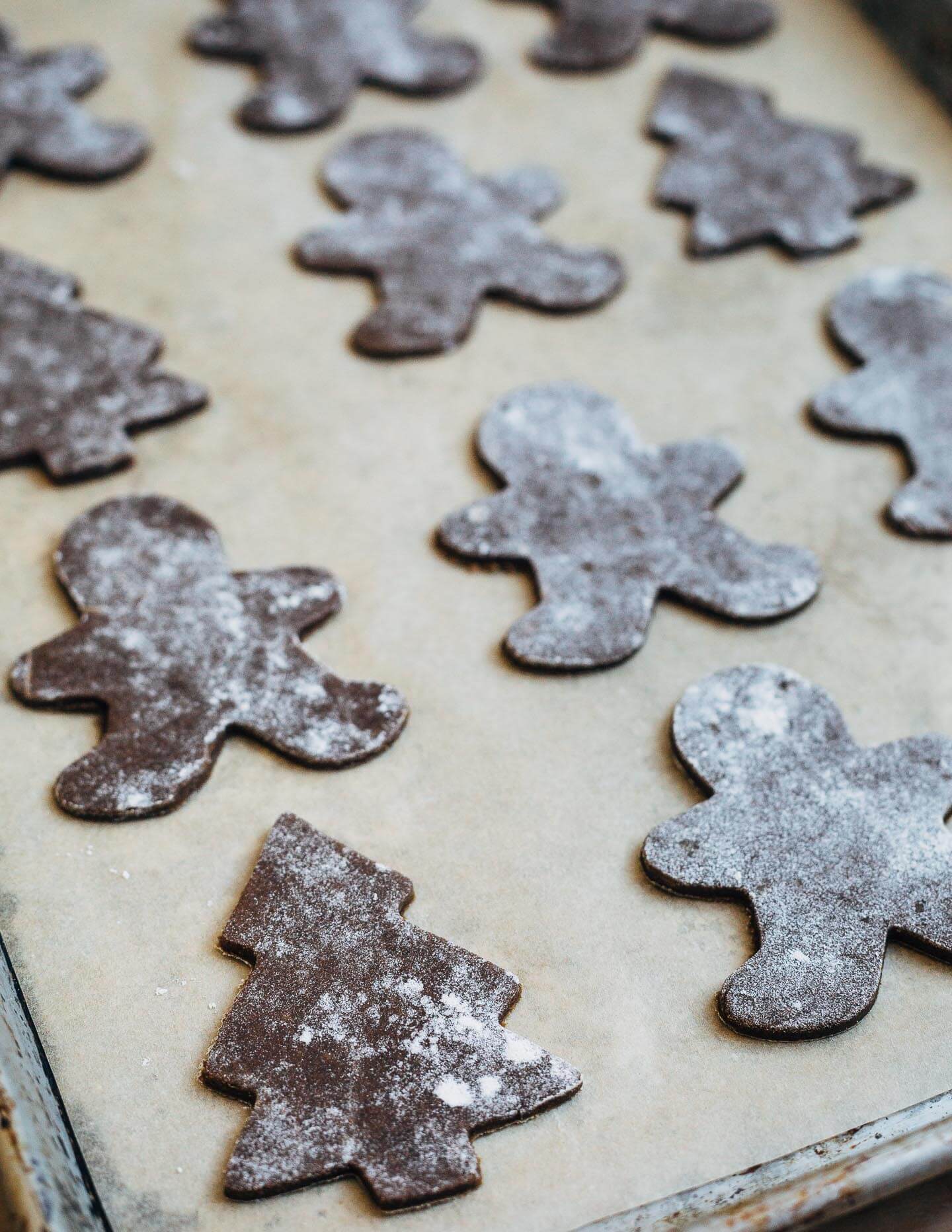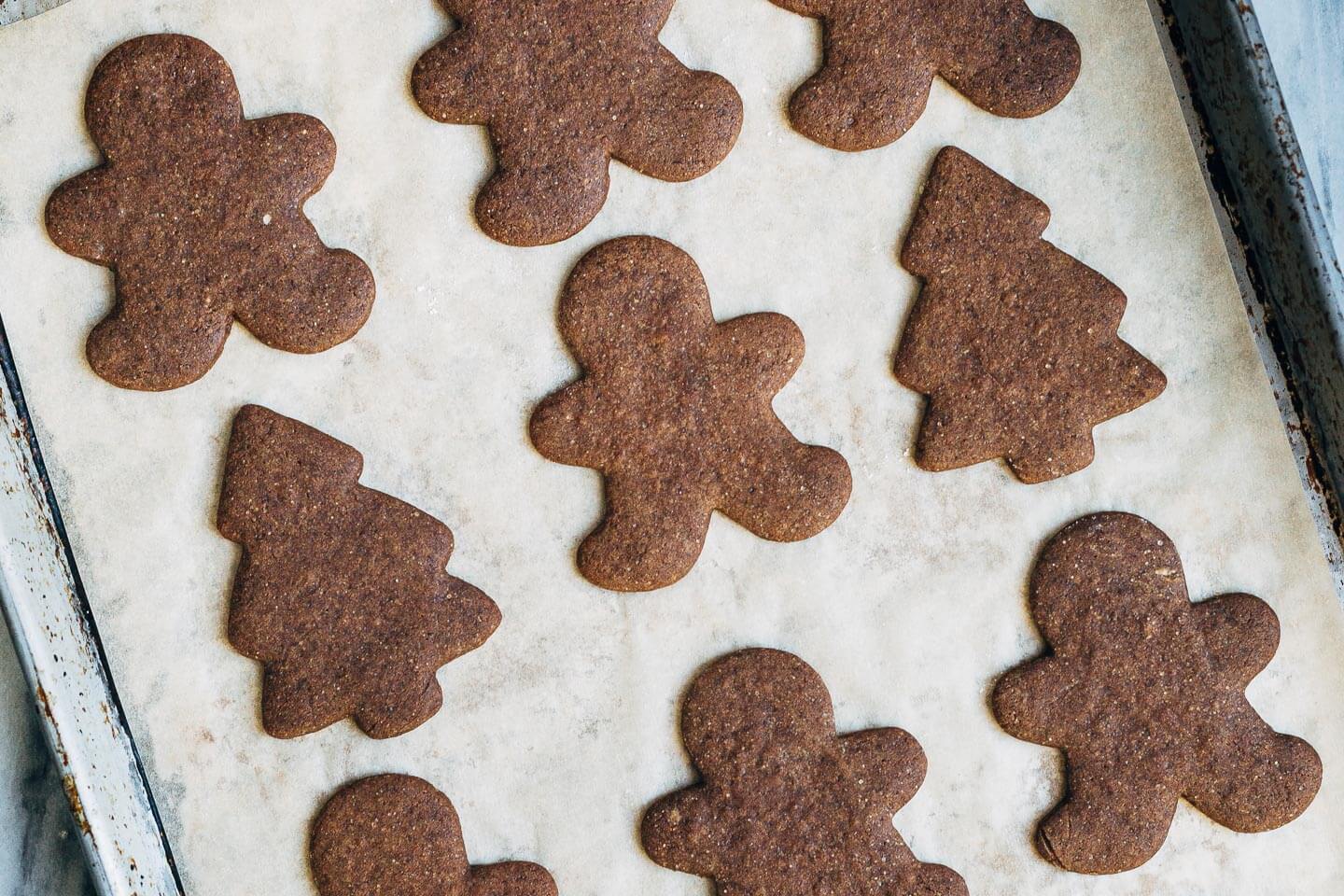 Making Rolled Cookies with Kids
I've found that kids can take a while to roll, cut, and decorate cookies, and there are a few simple steps that make things much simpler. Dough that clings to the rolling pin or gets sticky when you cut it can lead to major frustration, especially when you're cooking with kids. Keep things easy to work with, and maintain the buttery structure, by chilling the dough after each step.
First, chill the dough for several hours before rolling (I find it's best to just make it a day ahead of time). Next, roll chilled dough out in small batches between two pieces of lightly floured parchment. As you roll, lift dough and add flour to the bottom as needed (this will keep it from sticking when you cut the cookies). Stack the rolled dough, still in the parchment, on a baking sheet and chill of freeze for 10 – 20 minutes before cutting out. Lastly, use lightly floured cookie cutters to cut the cookies. If you need to reroll dough more than two or three times, or if it starts to get too sticky, wrap it in plastic and let it chill before proceeding.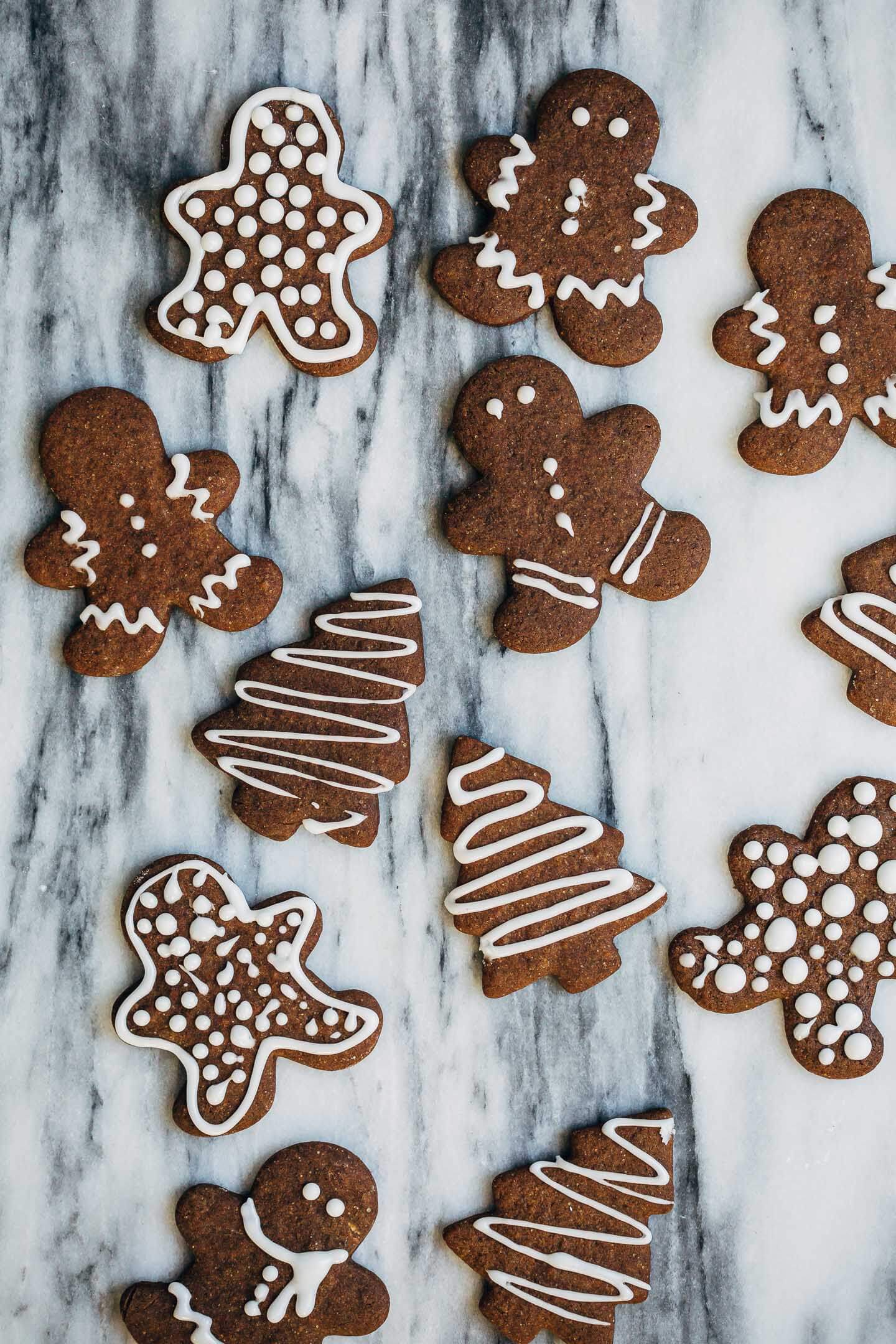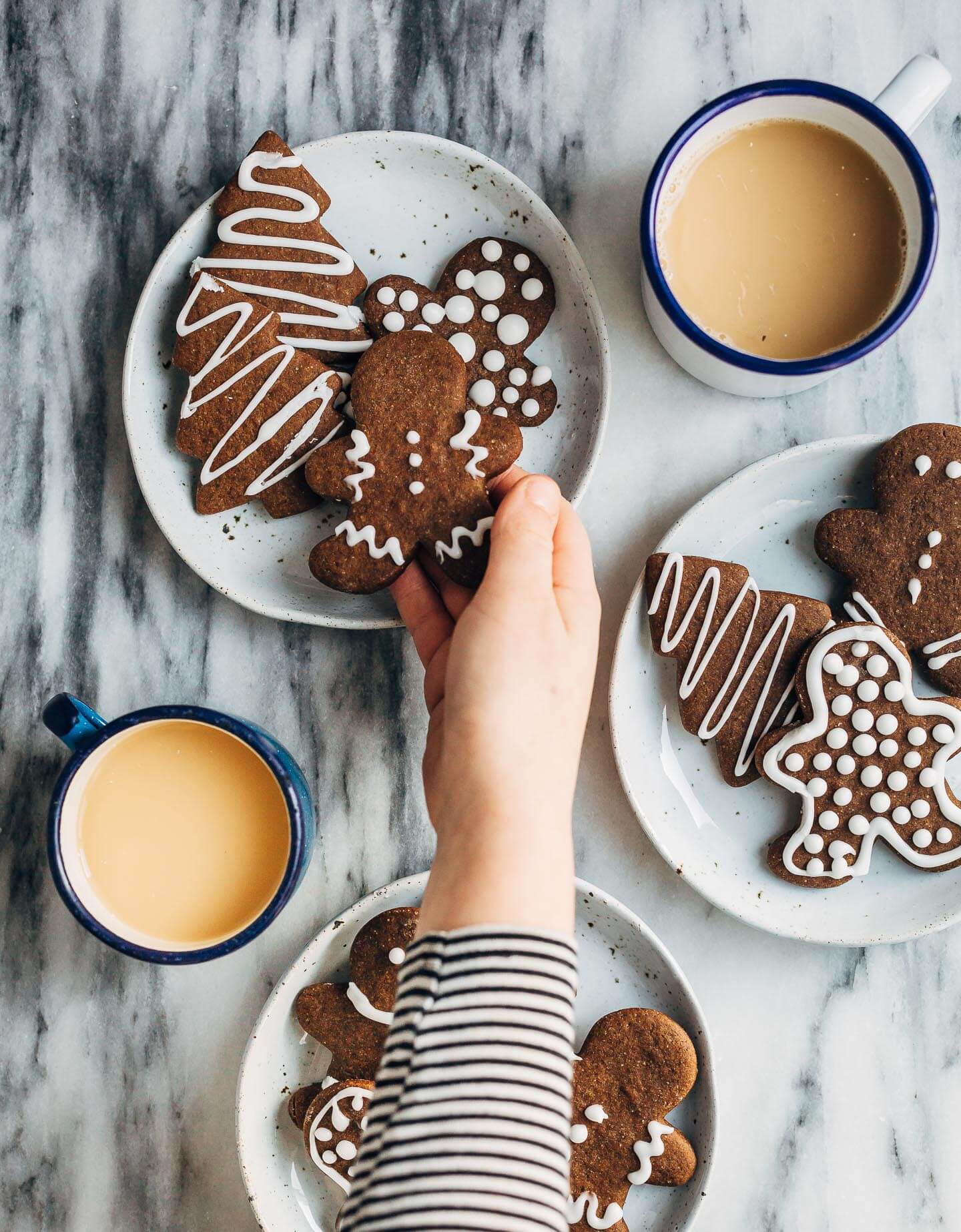 This recipe is an updated version of my more traditional gingerbread recipe that I use to make both cookies and gingerbread houses. I have lots of favorite holiday cookie recipes, but especially love these toasted rye chocolate chip cookies and these cardamom orange sugar cookies. Our favorite kind of cookie to make, though, isn't edible – it's these salt dough cookie ornaments that can be baked and painted and capture those fleeting moments I mentioned above beautifully.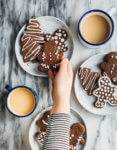 Spicy Gingerbread Cookies with Lemon Icing
These spicy gingerbread cookies with lemon icing are perfectly sweet, with lots of depth from molasses and heat from a mix of cinnamon, chili powder, and fresh ground pepper.
Ingredients
Gingerbread
2 1/4

cups

unbleached all-purpose flour,

plus more for rolling

1/2

teaspoon

baking soda

1/4

teaspoon

baking powder

3/4

teaspoons

kosher salt

2

teaspoons

ground ginger

2

teaspoons

ground cinnamon

1/2

teaspoon

chili powder

1/4

teaspoon

freshly ground black pepper

1/4

teaspoon

freshly grated nutmeg

12

tablespoons

unsalted butter,

room temperature

2/3

cup

cane or turbinado sugar

1

room temperature egg

1/2

cup

unsulphured molasses
Icing
2

cups

powdered sugar

2 - 4

tablespoons

fresh squeezed lemon juice
Instructions
In a large bowl, combine the flour, baking soda and powder, sea salt, and spices. Set aside.

In another large bowl or a stand mixer fitted with the paddle attachment, beat butter until light and fluffy, about 5 minutes. Add the sugar, and beat for another 2 minutes. Beat in the egg and then the molasses, stopping to scrape down sides as needed. With mixer on low, gradually add the flour mixture, mixing just until combined.

Divide into 2 discs, and wrap tightly with plastic wrap. Chill for at least three hours.

Preheat the oven to 350 degrees. Move a rack to the center of the oven.

Between two sheets of lightly floured parchment, roll out one of the dough portions to ¼-inch thickness. Place paper and dough on a cookie sheet, and freeze for 15 minutes.

Line a cookie sheet with a sheet of parchment paper. Use lightly floured cookie cutters to cut out desired shapes, and arrange on cookie sheet. Bake gingerbread cookies 10 minutes, (if you prefer snappier gingerbread or are using it for a house, bake 12 minutes total). Cool 10 minutes on the cookie sheet, then remove to a rack to cool completely.

Continue this process for each batch, baking one tray of cookies at a time.

To make the icing, whisk to combine the powdered sugar and 2 tablespoons lemon juice. Whisk in additional lemon juice just until icing relaxes and just drips off a spoon. Spoon into a piping bag and pipe frosting onto cookies. Let frosting dry for 2 hours before stacking or sealing cookies.

Cookies will keep well in an airtight container for several days. Wrap cookies in plastic wrap and freeze for longer storage.