Nutty zucchini pesto with fresh basil leaves, toasted garlic, and crumbled Parmesan is just the thing to toss with noodles for a quick late summer dinner.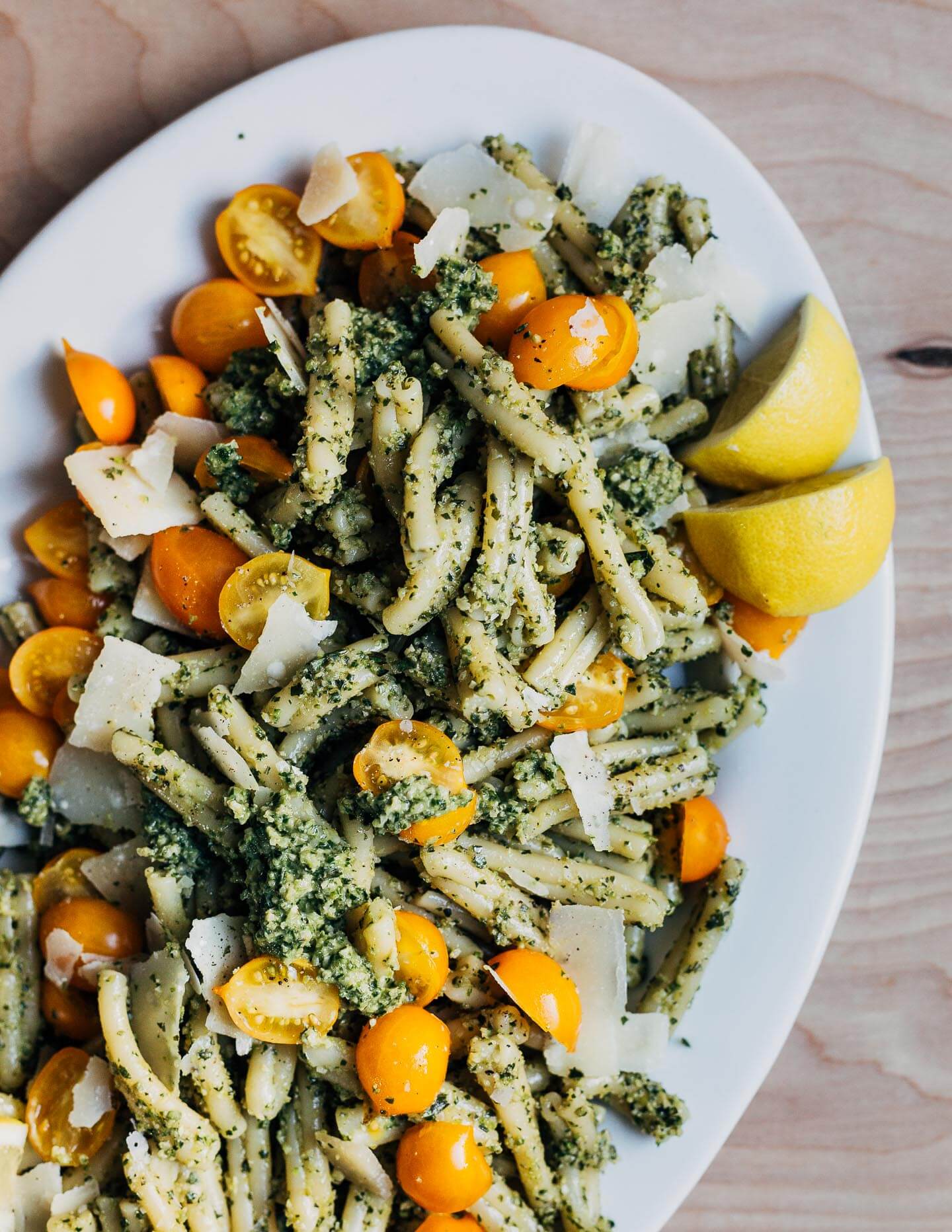 As a rule, I try to only share zucchini recipes that will make a serious dent in your zucchini stash. Most years, I find myself overwhelmed with zucchini and in need of creative ways to use it up. This year, I lost a bitter war with a garden mole who destroyed the roots of my three zucchini plants. Now I'm stuck just buying zucchini in totally reasonable quantities.
I kind of miss the zucchini deluge. If you are currently overwhelmed, I have a few recipes from the archives that will help: roasted zucchini dip, grilled zucchini and corn tacos, or zucchini in herbed yogurt curry. Today's zucchini pesto recipe only uses a single zucchini, but is still a very nice thing to make.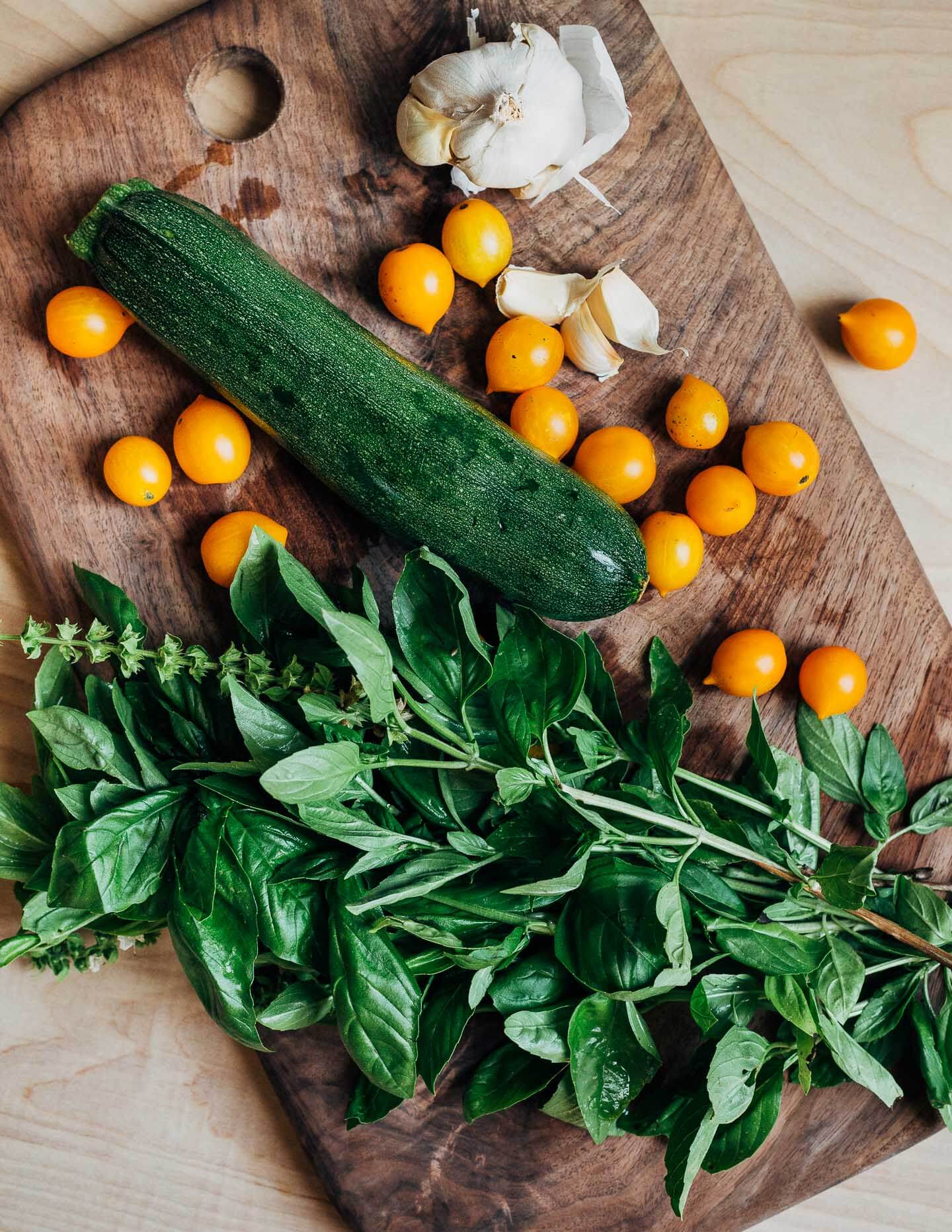 Zucchini Pesto Prep
This zucchini pesto recipe has a couple starting steps that just take a few minutes. First, you shred the zucchini and then press and/or wring it with paper towels or a flour cloth. This step sounds fussy, but I promise it isn't. Next, you heat up a big skillet, add olive oil, and toast the garlic. There's a fine line between toasted and outright burned garlic, so keep a close eye here. I generally pull the garlic when the smallest pieces are golden and the edges of the large bits have color along the edges. And finally, you sauté the shredded zucchini in the same pan just until it's wilted and fragrant. After that, proceed with normal pesto-making.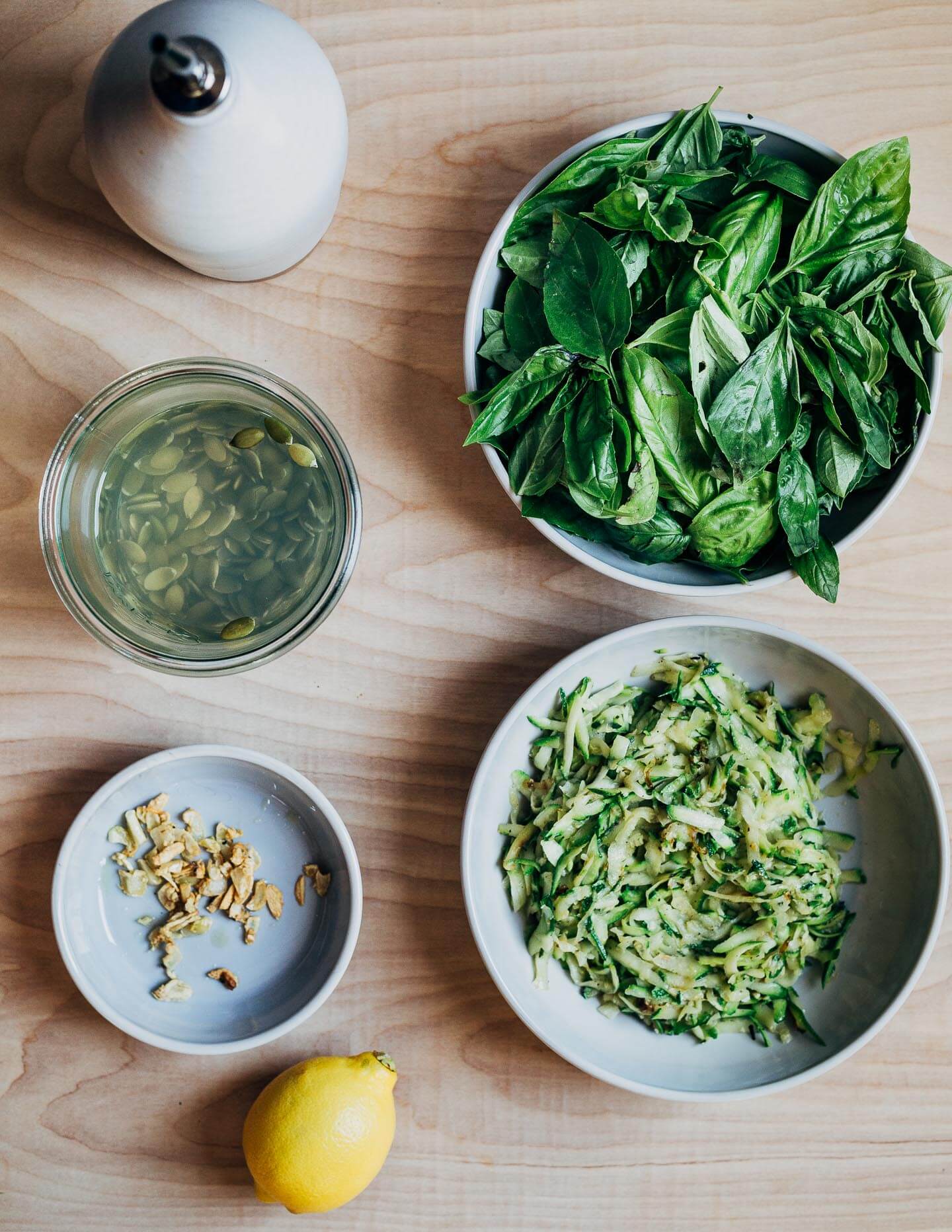 The recipe calls for soaked pepitas (raw, hulled pumpkin seeds), but if you prefer pine nuts, they'll work just fine and don't require the pre-soak.
I used casarecce pasta here and loved its tooth and the way the pesto clung to it. I'm very partial to ribbon pastas, but casarecce has won my heart, especially for pestos or thicker sauces.
Once you have your ingredients, all that's left is to blend it all together, toss, and enjoy. I like my zucchini pesto and noodles served just after they've been tossed – when the pasta still holds a bit of warmth – but the pesto noodles are also excellent at room temperature. If you'd like to make the zucchini pesto pasta ahead, cover and chill, but give the dish time to come to room temperature before serving.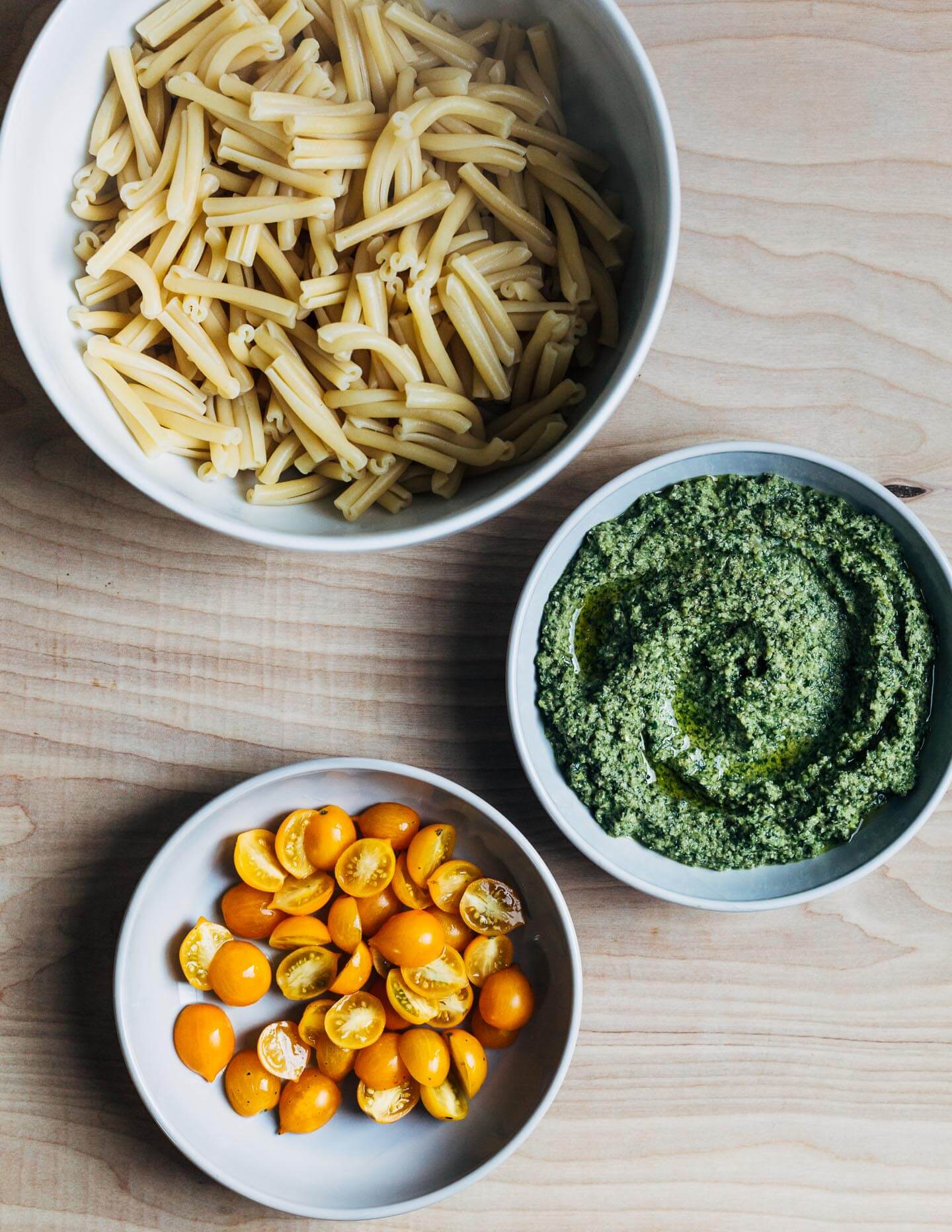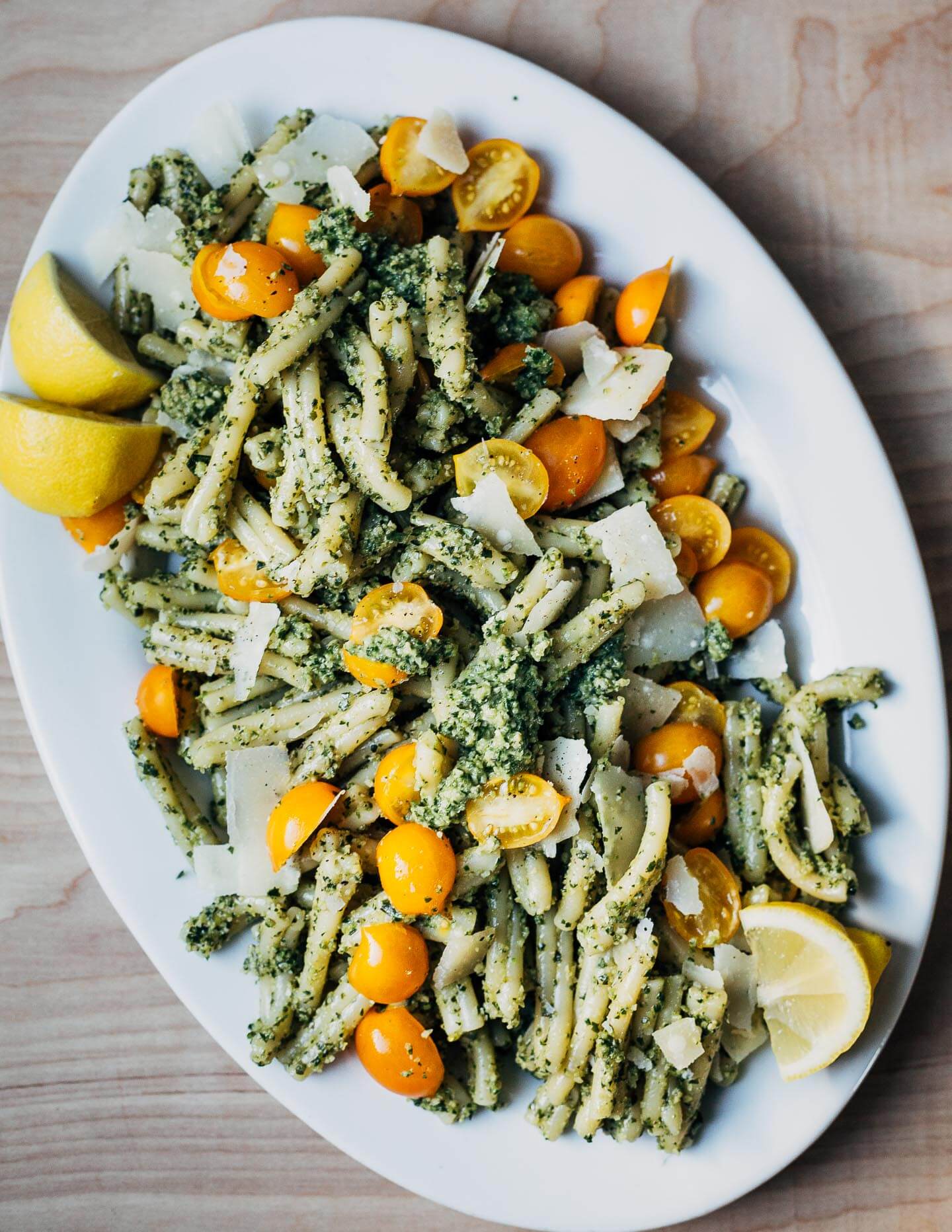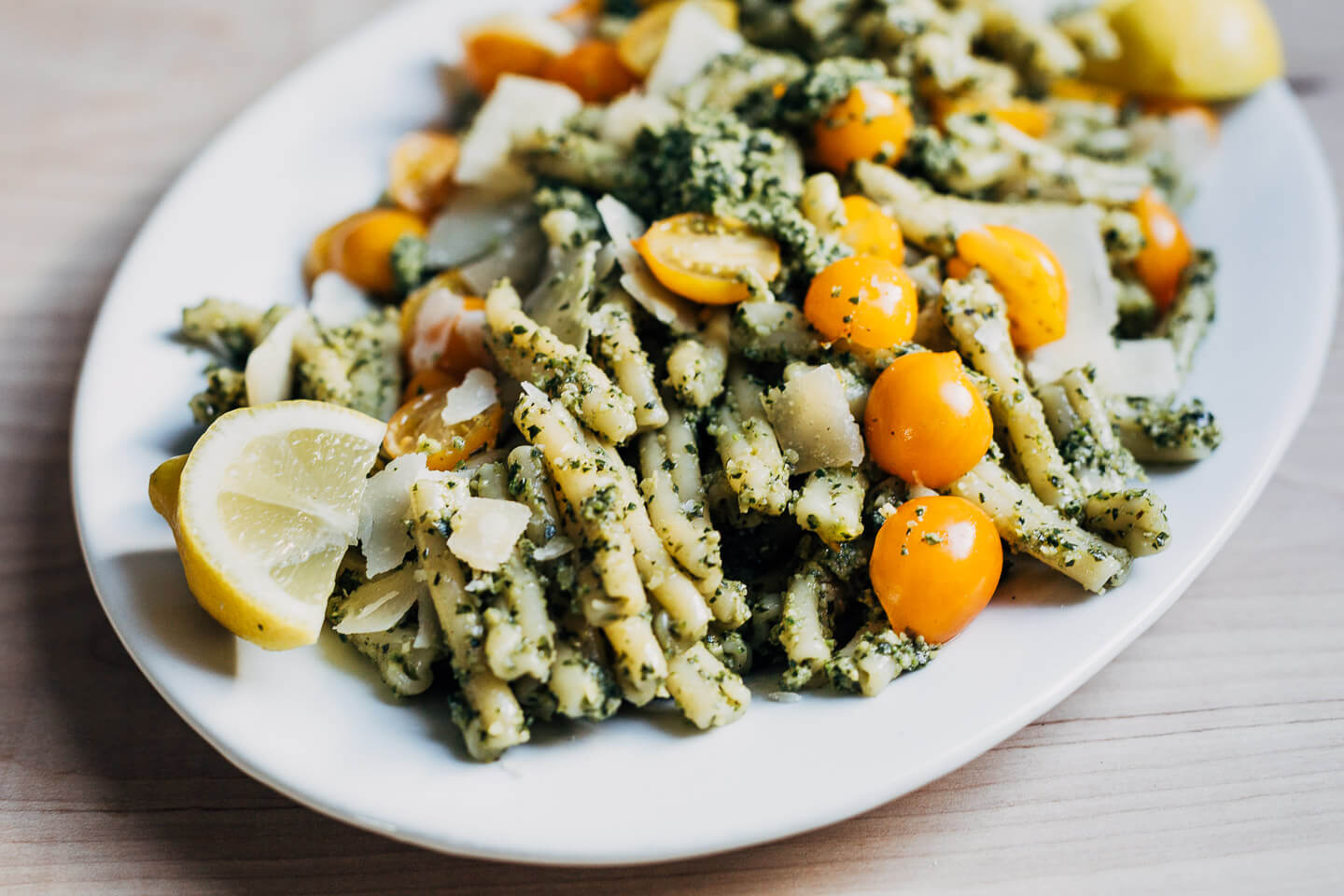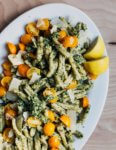 Zucchini Pesto with Toasted Garlic
Nutty zucchini pesto with fresh basil leaves, toasted garlic, and crumbled Parmesan is just the thing to toss with noodles for a quick late summer dinner.
Makes
:
6
generous servings
Ingredients
Pesto
1/4

cup

pepitas

(raw, hulled pumpkin seeds), soaked in 1 cup of boiling water

1

medium zucchini

shredded with the large hole side of a box grater (about 2 cups shredded)

2

cups

lightly packed basil leaves

2

cloves

garlic,

sliced thin

1/4

cup

plus 2 - 3 tablespoons extra virgin olive oil,

divided

1/2

teaspoon

sea salt

Zest of 1 lemon plus 2 tablespoons juice

2 - 4

tablespoons

water as needed
To Serve
1

pound

short pasta such as casarecce or campanelle,

cooked to al dente in salted water

2

cups

cherry tomatoes,

halved (I used sun gold)

Sea salt

1/4

cup

shaved Parmesan,

crumbled

Black pepper

6

lemon wedges
Instructions
Cover the pepitas in boiling water and set aside to soak for an hour or more. Strain just before using.

Create a stack of 2 - 3 paper towels (or use a clean flour cloth), arrange the shredded zucchini on top, and cover with more towels. Roll into a tight bundle and press and ring to get all the moisture out.

Rinse and pat dry the basil leaves, roll in paper towels or a flour cloth, and gently press to dry. Leave in a roll until needed.

Set a cast iron or other heavy skillet over medium heat. When hot, add 1 tablespoon olive oil and then the garlic. Cook, moving the garlic and spooning hot oil over it, for 1 - 2 minutes, or just until the garlic takes on a light golden hue. Remove to a small dish. Add 1 - 2 tablespoons more olive oil to the same skillet and add the zucchini. Sauté just until the zucchini has wilted, but still retains it's vibrant green color. Spoon zucchini out of skillet.

In the bowl of your food processor, add the garlic, zucchini, basil, strained pumpkin seeds, and the lemon zest and juice and pulse to reduce. With food processor running, drizzle in the olive oil. If needed, add up to 4 tablespoons water to thin the mixture.

Toss pesto with hot pasta. Toss tomatoes with a pinch of flaky sea salt and scatter over the pesto pasta. Finish with crumbled Parmesan (if using) and fresh ground black pepper to taste. Garnish with lemon wedges.

Pasta can be made ahead and refrigerated – just keep the tomatoes separate until you serve the pasta to keep it from getting soggy. Let it come to room temp before serving.