A weekly fall produce guide to what's in season right now based on the contents of our CSA share, with CSA and farmer's market recipes and ideas. This week's early September inspiration: nectarines and peaches.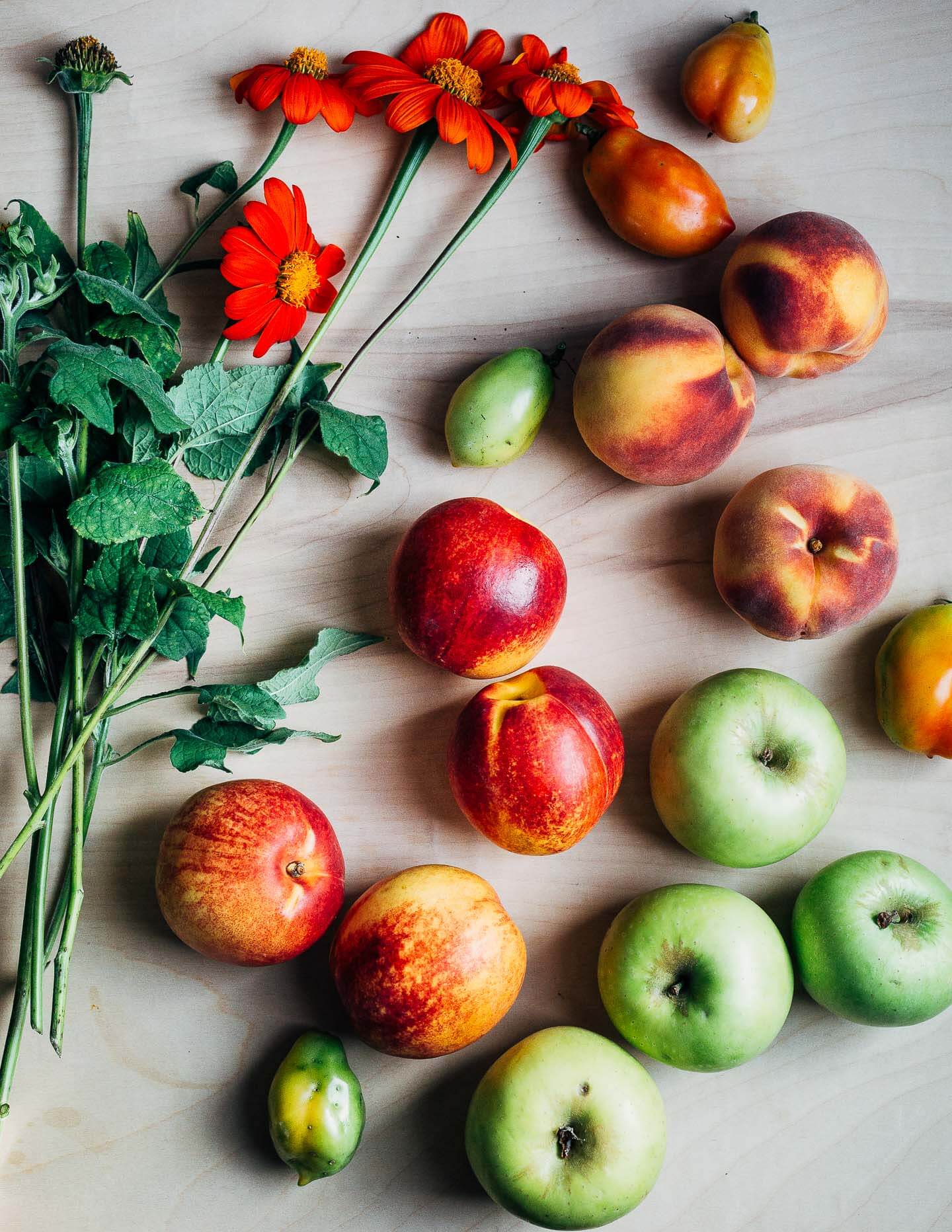 For the first installment of the fall produce guide (hello September!), I thought it would be a good time to focus on summer fruit. I'm not one to rush into fall, especially where produce is concerned, so it feels right to linger on summer ingredients just a bit longer. And anyway, nectarines and peaches are abundant and delicious right now.
Up in the picture, I decided to round things out with green Lodi apples, green tomatoes from the garden (sparing them from our resident rabbit), and a few Mexican sunflowers. I'm not quite ready for apple recipes, but will certainly give them lots of attention in the coming weeks. Stay tuned!
Nectarines
Nectarines are plentiful and delicious this year. Whether served fresh, grilled, or baked until jammy, this versatile fruit is a highlight of early fall. Look for fruit with lots of deep maroon color. Very yellow or very hard nectarines are likely unripe. One trick I use this time of year is to follow the bees – they always know which stands have the ripest fruit.
Peaches
I'm revisiting peaches one last time, with an eye toward late summer/early fall preparations. Each of the recipes above capture the moment beautifully, whether with the delicate French custard cake, a grilled watermelon and donut peach salad, or a fresh fig and Blood Peach tart. Whatever you make, the last weekend of summer is an excellent time for grilling, of course, but also a big baking project like a proper pie or other dessert.