Recipe inspiration and tips for what's in season in March. The March produce guide features artichokes, chives, collards, lettuce, and spinach.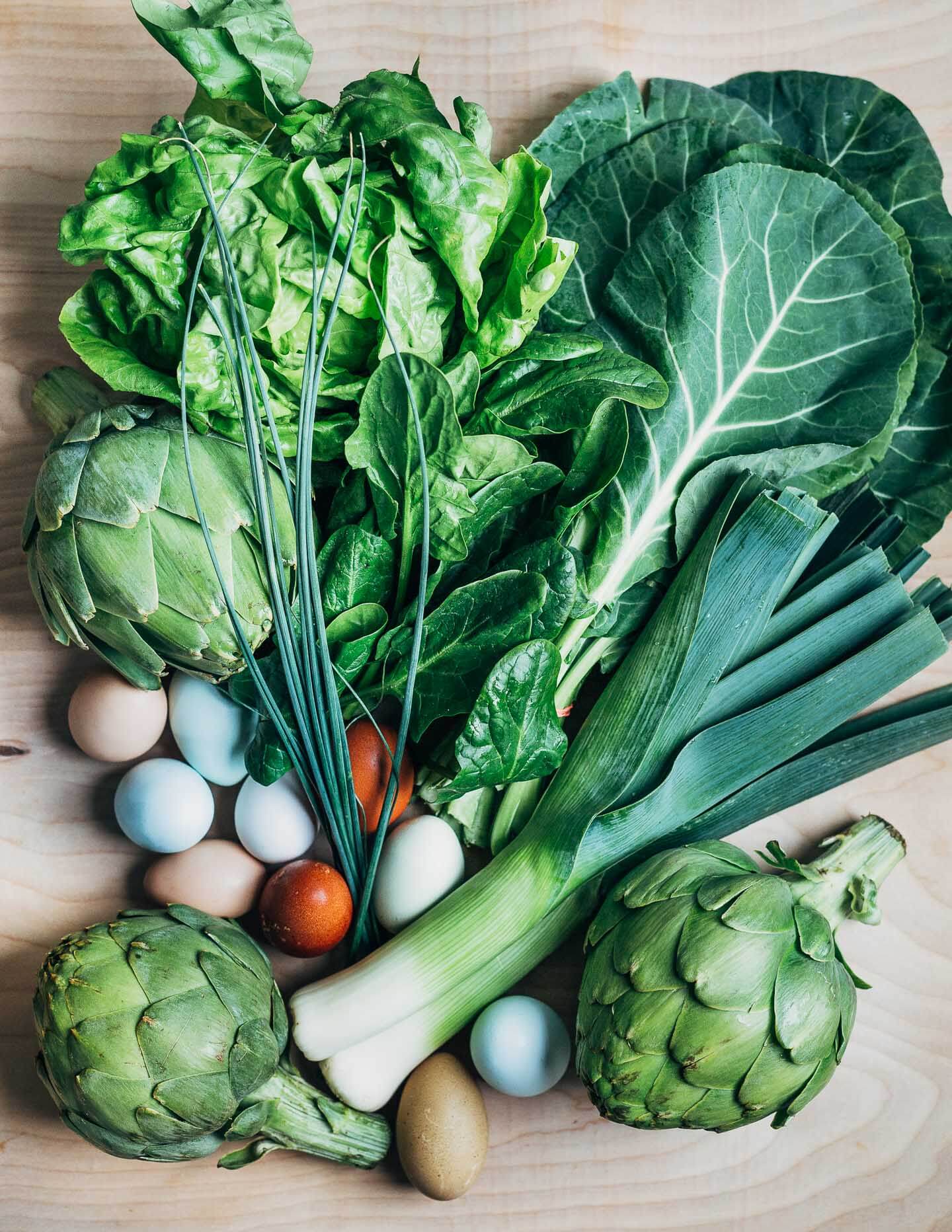 At last, the calendar has caught up with the spring weather we've have throughout February. A month early, everything is in bloom. The trees have little green buds peaking out, the daffodils are up, and salmon pink quince bushes are in full flower. An early spring is never good news here in the Virginia Piedmont. It means fruit trees and grape vines are destined to bloom early and then face an inevitable hard frost or three. Keep you fingers crossed for all the cherry and peach trees out there.
While March marks the coming of spring, it's early days yet and many local offerings won't be available for a few weeks. But there are signs! My garden has lettuce and collards that made it through the winter, and local growers have hoop house greens and lettuces. Wild chives are up and thriving. Though I didn't include them in the roundup, this is an excellent time to source local eggs. Bugs and little shoots are some of spring's earliest offerings and chickens make the most of that bounty.
Though they come all the way from California, I've included artichokes in the March produce guide. They have a brief season stretching from March to May, and I find them so delicious and special.
Artichokes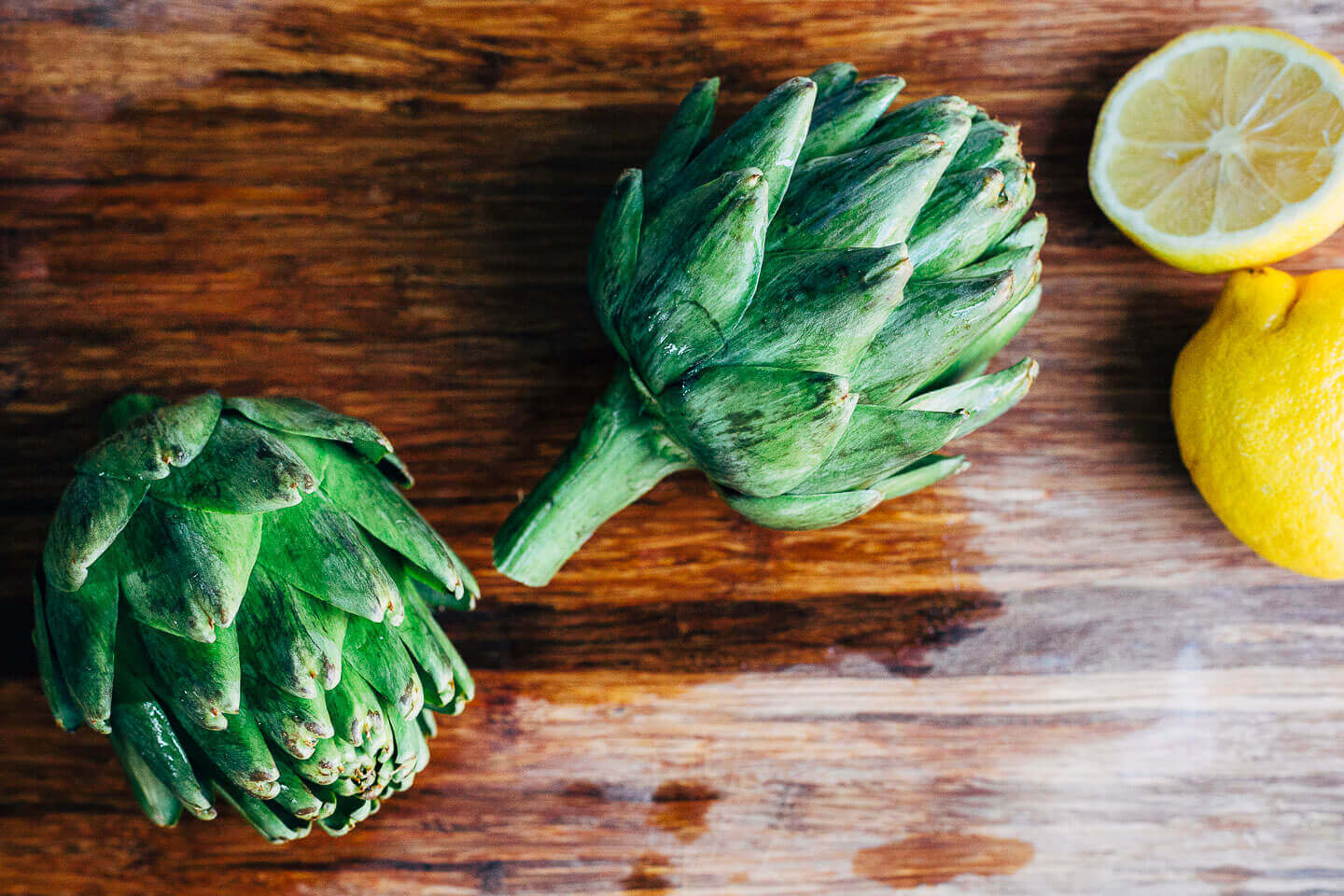 Artichokes do not come from around here – they grow mostly in California – but are still well worth enjoying when the time is right. With woody leaves and sharp spines, artichokes can be intimidating, but it's worth a little prep work to enjoy the meaty leaves and buttery hearts. The best tips I can offer are to be brave and have plenty of lemon on hand since artichokes brown quickly once cut.
Chives
There are a couple kinds of chives – the wild kind that grows in all but coldest months and the cultivated kind that comes up in early spring. Right now, there's an abundance of wild chives. Since they're one of the first spring ingredients to come in, I like to mark the moment. Look for wild chives off the beaten path (you don't want chives that are along any kind of thoroughfare, especially one frequented by dogs). Once you've nabbed a bunch, you can use them anywhere you might use regular chives. Wild chives can be particularly unctuous – if you're wary, cut back a bit on the amount just a tad.
Collards
I was thinking about bad mouthing collards some and calling them ubiquitous, but the fact is, I'm grateful for these winter-hardy greens. Over-wintered collards are likely to be on the tougher side, so consider recipes where the stems are removed and the collards are cooked well. The fresh harvest will start coming in later this month, and those young, tender greens are perfect for a quick sauté or raw preparation.
Lettuce
Out in the garden, I have a few heads of sturdy bibb and romaine lettuces that will soon be in my salad bowl. These first spring lettuces are a revelation and warrant a little celebration in my house. Young leaves are delicate, so treat them with care and don't do too much to overwhelm their lovely flavor.
Spinach
Spinach grows relatively quickly and is a nice additional to salad bowls in the early spring. Tender spinach leaves are best enjoyed raw or with a quick sauté, while mature spinach is best for cooking.