A December produce guide to what's fresh and delicious right now with tips and recipe inspiration. What's in season in December? Apples, broccoli, Brussels sprouts, cauliflower, collards, kale, mushrooms, and sweet potatoes.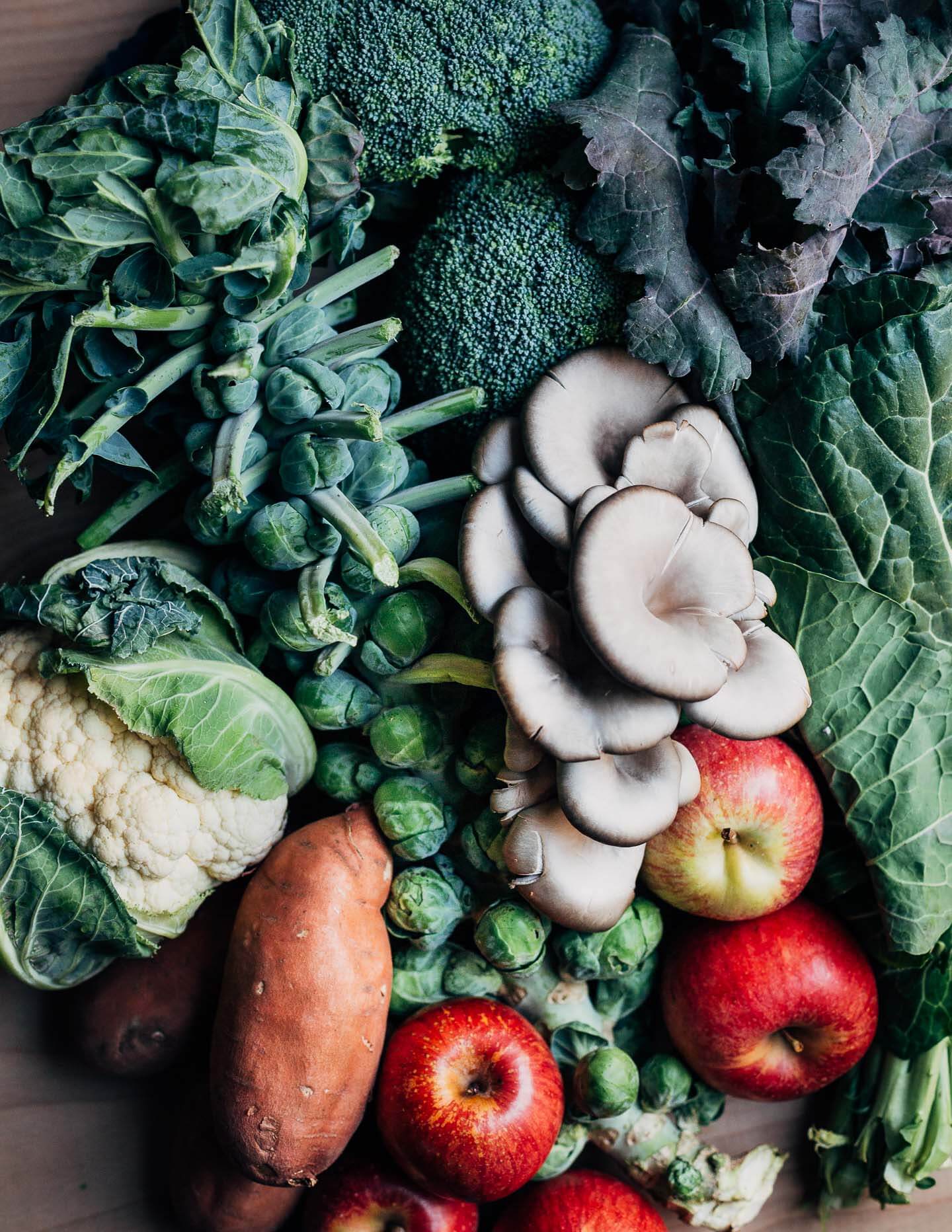 What's in Season in December
After a late fall cold snap, I expected the local produce offerings at the farmers market to have fallen off. Instead, I found piles of vibrant brassicas like broccoli, Brussels sprouts, cauliflower, collards, and kale; crisp, wonderfully sweet apples; cultivated mushrooms; and sweet potatoes. Winter is definitely coming, but maybe not just yet?
With all this bounty, early December is a very good time to get out to the markets and support regional growers.
The December produce guide is focused on all the ways to cook and enjoy this late fall/early winter harvest. I'm sharing comforting savory apple recipes, fresh and roasted salads, and silky soups that are just right for all the days this month when you're not eating cookies or going to parties.
Apples
There are still lots of tasty local apples available. Look for flavorful late season varieties such as Cameo, Fuji, Mutsu, Macoun, Pink Lady, or Winesap. For savory dishes, sour varietals like Granny Smith, Empire, and Pink Lady hold up well against rich ingredients.
Broccoli and Cauliflower
At the market last week, we found lovely heads of broccoli and cauliflower. These crops do well with a bit of frost but bitter cold will end their growing season. Grab some now and enjoy the beautiful flavor of these frost-sweetened brassicas.
Brussels Sprouts
Like broccoli and cauliflower, Brussels sprouts are in season and extra delicious right now. Look for sprouts sold on the stalk – they tend to be fresher and keep better than pre-cut sprouts.
Collard Greens and Kale
More frost-sweetened brassicas! Collards this time of year can be a bit on the tough side, so take the time to remove the fibrous stems and maybe braise them a bit longer than usual.
Like collards, kale can be on the tougher side this time of year, though I found a beautiful bunch of supple red russian kale from local growers Bellair Farm. As you decide what to make with your kale, consider its texture – tougher leaves should have the stems removed, be cut into thin ribbons, and cooked, while tender kale can be used in raw preparations (though you still may want to remove the stems). If you're not sure, taste your kale!
Mushrooms
With so many advances in indoor mushroom cultivation, mushrooms are more of a year round food. But as the selection of available local produce dwindles, early winter is a great time to explore the variety of flavors and textures available.
I tend to go for varieties like oyster, shiitake, and crimini, but there are a great many options out there, so talk to your mushroom grower and ask what they love. Lions mane, hen of the woods, and trumpet mushrooms all have big flavor.
Sweet Potatoes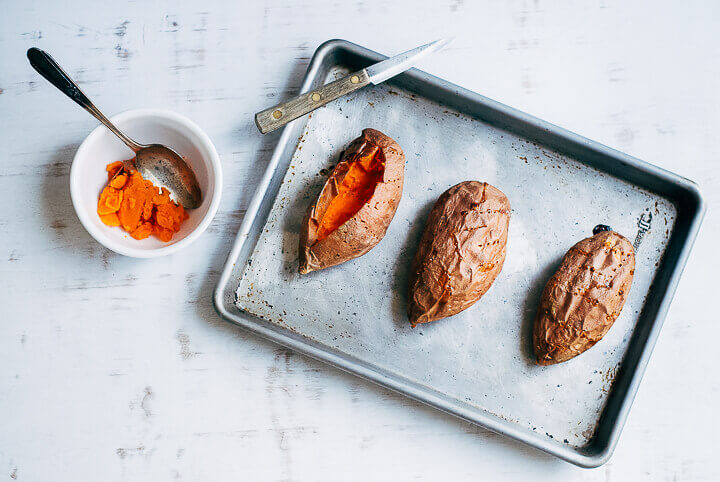 The easiest way to make a sweet potato is to pierce it all over with the times of a fork, cover it tightly with foil, set on a tray (caramelized juices will leak out as it cooks!), and bake at 350 or so for 60 – 70 minutes. From there, you can add a knob of butter and sea salt, maybe a sprinkle of brown sugar, or try adding harissa, goat cheese, or sautéed greens and hot sauce.
Sweet potatoes also roast up beautifully – they take a while to crisp up, so be sure to give them room on the baking sheet and enough time in the oven.