A weekly summer produce guide to what's in season at farmers' markets and in CSA shares in the Mid-Atlantic region (and lots of other places). In season this week: blackberries, black and red raspberries, peaches, and sweet cherries.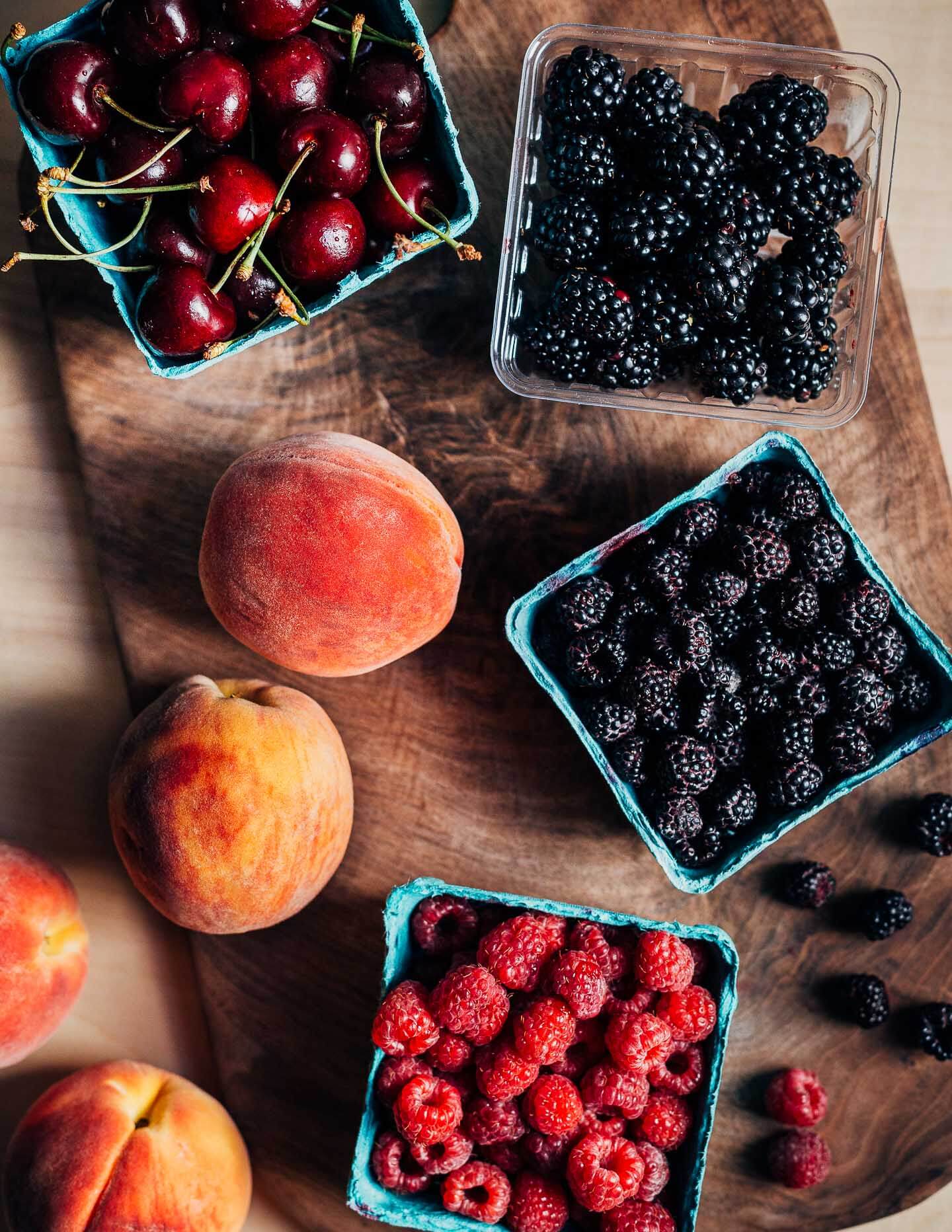 This post was originally published in 2015 and was updated July 9, 2022.
This week is all about summer berries: blackberries, black and red raspberries, wild raspberries, and wineberries are all abundant right now. Local peaches are starting to get good, too. The early varieties tend to be clingstone, but a bit of time wrestling a stubborn pit is well worth the buttery sweetness of a perfect summer peach. Sweet cherries are still around too! You can find some of my favorite sweet cherry recipes in the early June guide here.
Berries, and especially red raspberries, can be quite fragile, so make a plan to use them as soon as possible. If you need them to last more than a day or two, arrange the berries a single layer on a paper towel, wrap loosely in plastic, and set in the fridge. This is also a good time to start planning for the future, because berries freeze really well. To quickly preserve yours, rinse and blot the berries dry, then spread out on a rimmed tray lined with wax paper and feeze solid. This allows you to freeze your berries without having them clump together. Once frozen, tip the berries into a zip-top bag. Label the bag, and shove it in the way back of the freezer. Come November you will be very happy.
It's worth noting that the tomatoes are totally on deck. We've had a few handfuls of cherry tomatoes and a bunch of slicers from the garden, but I'm waiting until next week to ring in the most wonderful time of the year. Stay tuned!
Blackberries
Peaches
Raspberries