Recipe inspiration and tips for what's in season in April. The April produce guide features strawberries, asparagus, green garlic, hakurei turnips, lettuce, and kale.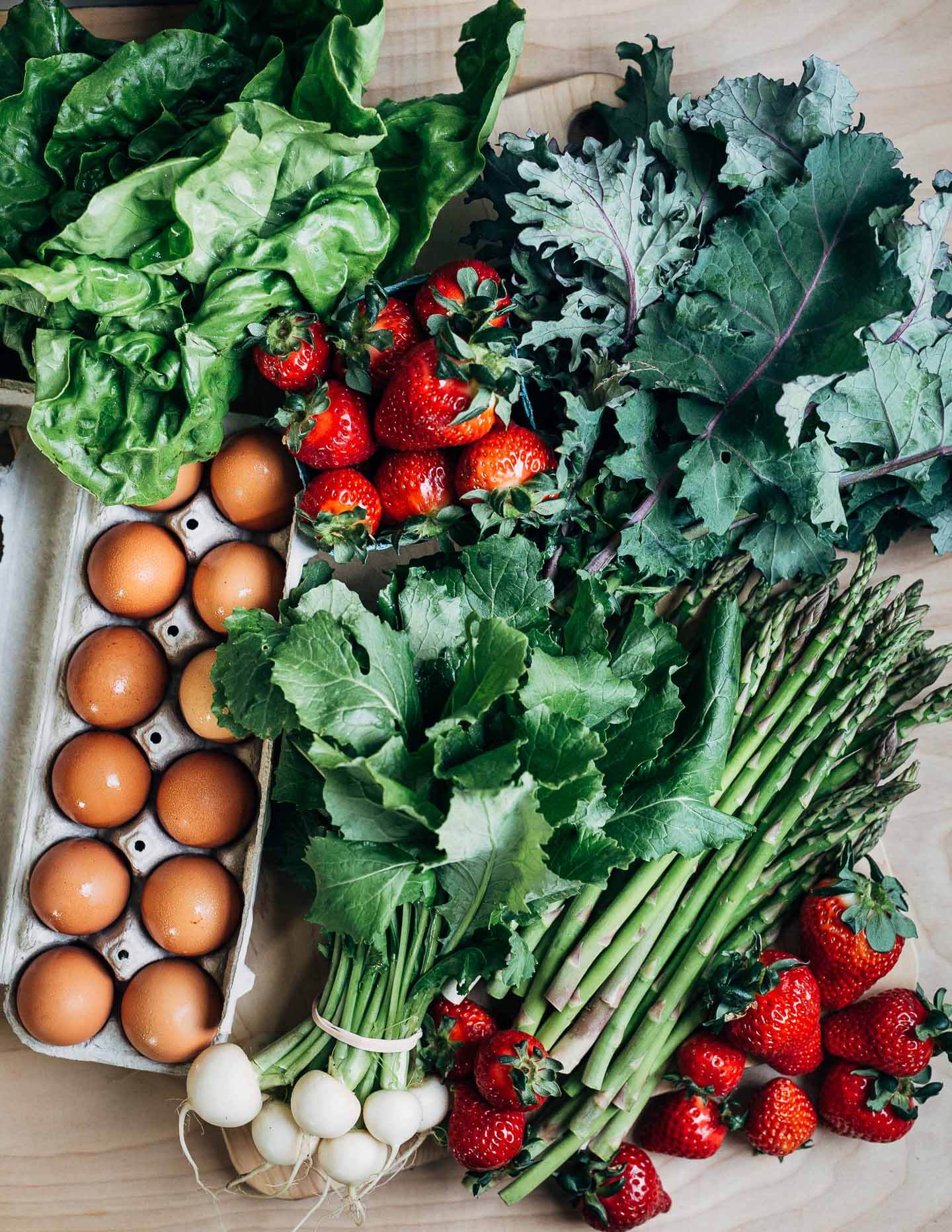 I won't bury the lede: Local Virginia strawberries are in and they are delicious. Local green garlic, hakurei turnips, lettuces, and dark, leafy greens are in as well. I'm still waiting on local asparagus, but that will arrive in just a couple weeks. If you're in New York or further afield, you may have a few weeks yet before the strawberries hit, but just know that they are coming.
Suddenly, we are flush with delicious, in-season produce grown close to home. It's an ideal time to get out to the farmers market and support local growers after a long (and likely expensive) winter.
Here's how to make the most of what's in season in April. Happy cooking!

Strawberries

Strawberries are quite delicate and should be enjoyed as quickly as you're able. Keep them loosely wrapped in the fridge for a couple days. If you need to buy a little extra time, spread them out on a paper towel covered plate or tray and wrap loosely with plastic.
The recipes below feature a mix of fresh and cooked berries, from strawberry lemonade to the best buttery semolina shortcakes.
Asparagus

Asparagus can range in thickness from thin and spindly to downright stout. Stouter spears can be more fibrous – if that's the case, peel the outer most layer of the asparagus will a peeler and snap off the woody end as usual. My best advice is to try and find bunches comprised of similarly-sized asparagus so the cook time will be the same. Asparagus tips can harbor sand and grit; to dislodge, swish the tips in a bowl of water or the sink and then give the sand some time to settle.
With Easter upon us, I wanted to share my simple but festive fennel-asparagus salad, as well as a few recipes that are just right for cool spring nights like cream of asparagus soup and polenta bowls.
Green Garlic

Green garlic is immature garlic – chives, bulb, and all. It has a delightful green-tasting flavor and a milder spice than garlic cloves. Some growers may also sell garlic chives without the bulb attached. Either way, you can use green garlic as an allium or like an herb. Here, I've included it in a simple pesto, a spring pasta dish, and a fancy-seeming sheet pan quiche.
Hakurei Turnips

Hakurei turnips, also known as Japanese or salad turnips, are a longtime favorite of this food writer. They have crisp, creamy flesh with just a hint of spice. Hakurei turnips can can roasted or sautéed, and are perfect sliced and salted in salads or toasts. Like all turnips, the attached greens are perfect for a quick sauté or braise.
Hakurei turnips like cooler weather and are perfect in the spring. Look for them at the farmers market April through June.
Lettuce

Now is the best time to enjoy the bounty of lettuce and greens. Bibbs and romaines are sweet and crisp, cresses are delicate and not yet too spicy, arugula tender. Whatever spring leaves you prefer, now is the time to embrace salads and maybe up your game. Over on my Substack, I shared two salad recipes this week: Salade Lyonnaise with warm bacon vinaigrette and a poached egg, and a Bibb lettuce salad with radishes and an herby vegan tahini ranch dressing.
Lettuces are best stored unrinsed with a paper towel tucked alongside in a bag. They can also be rinsed and very well dried right in the salad spinner or rolled in a towel and loosely covered. I like to puff up the plastic bag a bit to give the lettuce extra air and movement, since compression is a precursor to soggy leaves.
Kale
Lots of dark, leafy greens are in season right now, but I especially love young kale. Fresh spring leaves are tender and delicious – it's an ideal time to enjoy the raw dark, leafy greens in all kinds of salads. Tender leaves can also be cooked briefly. There's no need for the long cook times required by tougher greens.