A weekly summer produce guide to what's in season at farmers' markets and in CSA shares in the Mid-Atlantic region (and lots of other places). As the month of June begins, we're highlighting spinach, kale, arugula, and mint.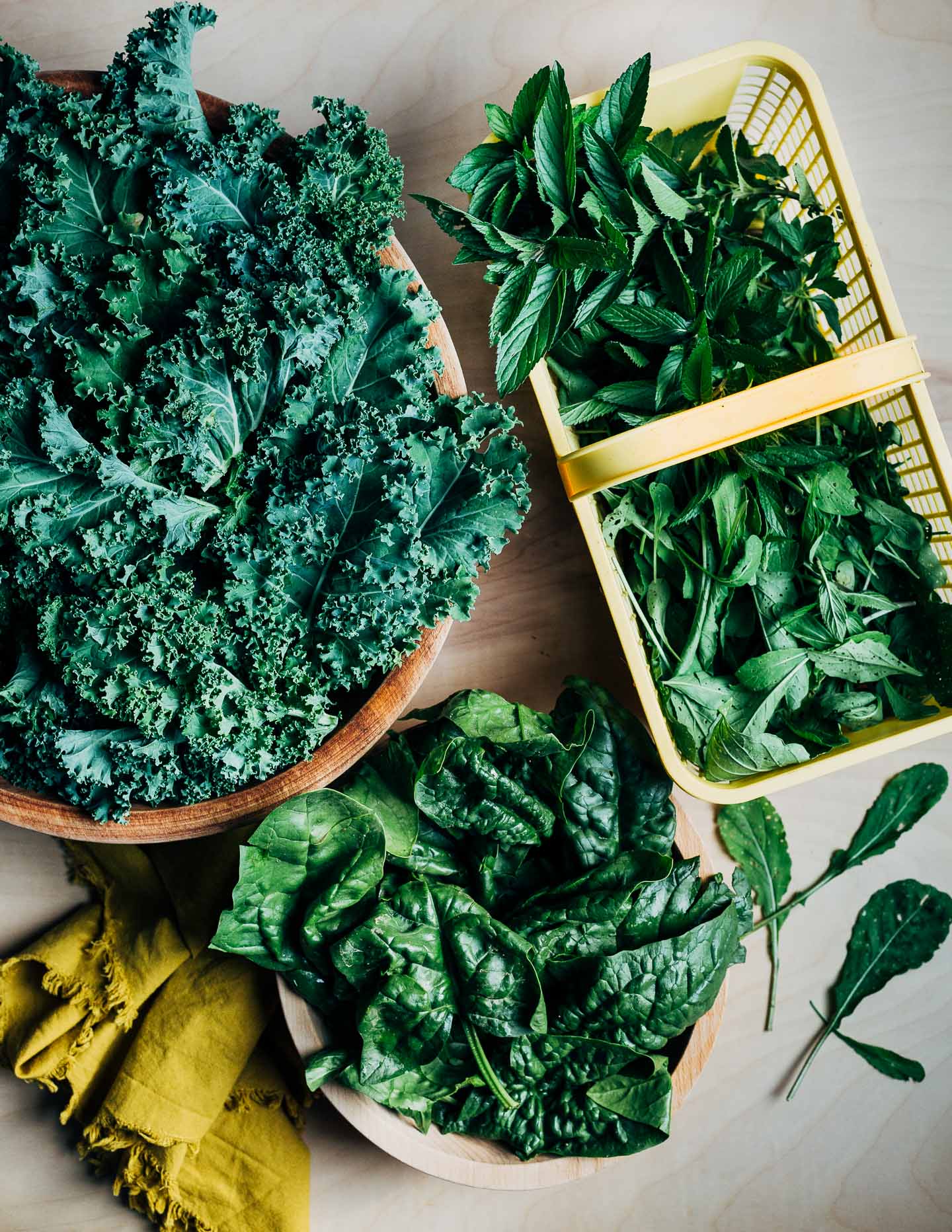 Last night, a powerful storm roared through Charlottesville, snapping a few trees, knocking out power, and doing real damage to my still un-staked tomatoes. We rescued some doomed chicken from the fridge and grilled our dinner which we then ate by candlelight. The house was unbearably hot, so we all sat on the front stoop well into the night, watching fireflies and listening to the crickets. Which is all to say, summer is here.
While the weather has made the shift, real deal summer produce is a few weeks out. Until then, we have greens to enjoy. As I mentioned here, I'm currently cooking my way through a big patch of garden kale, and eating up the remaining arugula and lettuce. At the market, spinach is abundant and delicious, especially for those of you up north. Soon, we'll have green beans, summer squash, and cherry tomatoes, but for now, I'm happy to eat all the greens.
Kale
Kale thrives in the cooler months, both in the spring and well into the fall. As the leaves grow, especially in the summer heat, they can get tough and fibrous, so now's the best time to take advantage of tender kale with its soft leaves and pliable, sweet stems. If you happen to have a tougher bunch, I suggest cooking it down – the kale sauce pasta and kale pesto lasagna are both excellent options for kale that's slightly past its prime. I tend to prefer Lacinato (aka Tuscan or Dino) kale for eating raw. The deep green leaves are usually the more supple and Lacinato has a pronounced earthy sweet flavor.
Spinach
Spinach won't be around much longer, especially here in the south, so right now is a good time to take advantage of the harvest. I'm seeing larger, somewhat tougher leaves available at markets right now – this kind of spinach is perfect for cooking in dishes like the egg and greens pizza or savory crepes. If you can find them, use more tender leaves in salads and raw preparations.
Arugula
Late season arugula is still kicking around and these spicy greens are perfect for cooked dishes like this cheeseburger mac and killed lettuce salad. If your arugula leaves aren't too spicy yet, use them as the greens in your favorite salad.
Mint
This one's a little bit of a cheat since mint is in season and delicious for most of the summer. If you've ever grown it, you'll know that mint is a little too easy to grow – it will gladly take over whatever space it's allowed. When this happens, I cut out big bunches and dry them for tea, or make simple syrup or a frozen treat like ice cream or the chocolate dip popsicles pictured here.