A weekly spring produce guide to what's in season at farmers' markets and in CSA shares in the Mid-Atlantic region (and lots of other places). This week, we have strawberries, Hakurei turnips, and kohlrabi.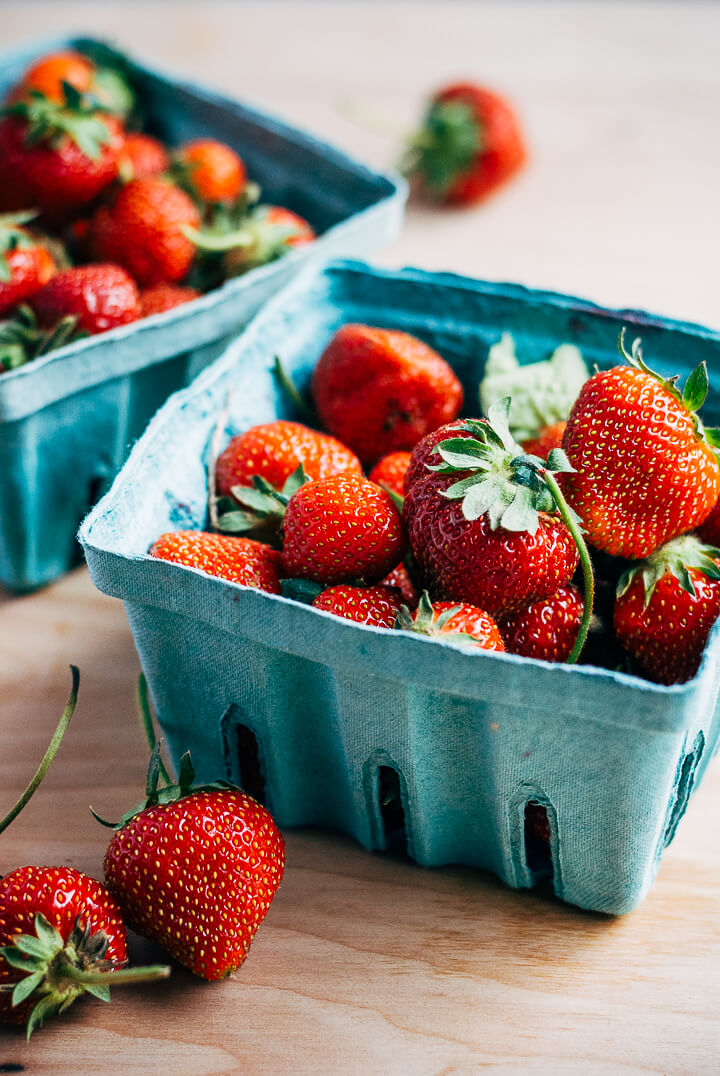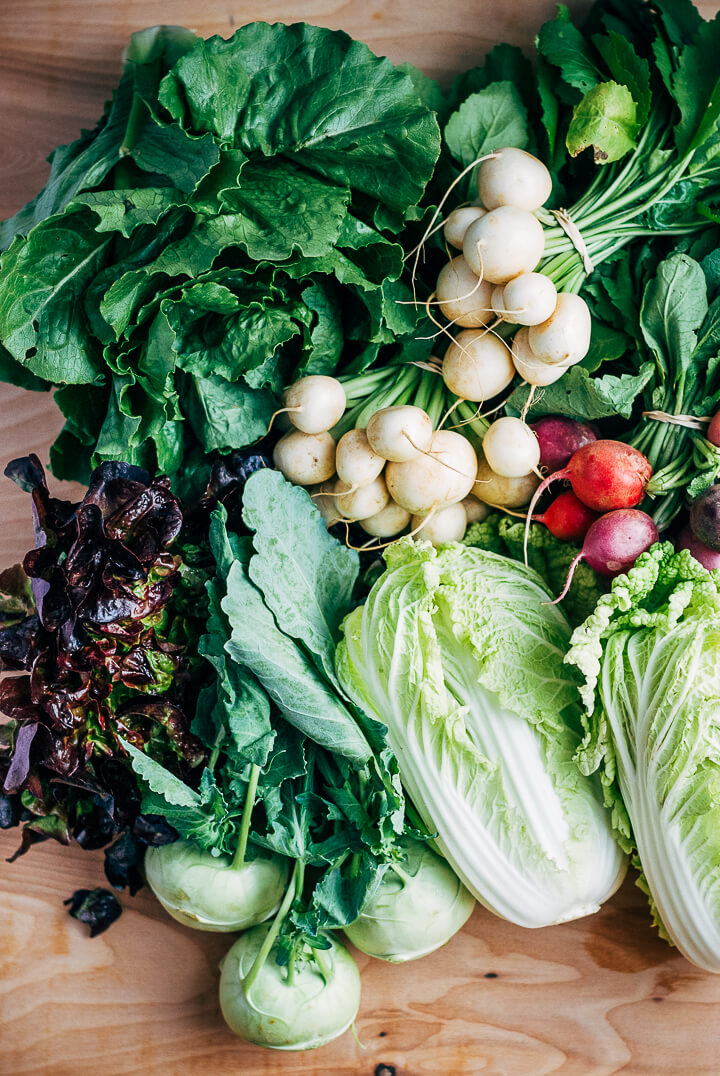 Unfortunately, it's another week in the US and that means another mass shooting. Like you, I'm processing the joint horrors of Buffalo and Uvalde with a mix of despair and rage. I can't muster hopeful words at this point, so I'll just say that I'm holding the victims of both shootings in my heart. I'm squeezing my kids extra tight before they head out the school every day and then waiting anxiously for them to return. Life in this country should not be like this and it doesn't have to be.
Community Supported Agriculture Matters
As global supply chains continue to struggle and inflation continues to rise, this is a good year to support your local farmers. And one of the best ways to do that is with a CSA (Community Supported Agriculture) share.
CSAs are in investment in a farmer, a farm, and a particular growing season. As such, farmers need to diversify. They plant tomatoes and other seasonal faves, sure, but also lots and lots of hardy roots and greens. Why? Because they're hardy. For example, two weeks of heavy rain can wipe out a tomato harvest, while collards and kale can thrive even in wet weather. Though necessary, crop diversification can mean that a lot of new and possibly strange foods show up in your weekly share. Bitter greens, leafy greens, kohlrabi, celery root, and tons of radishes are all CSA mainstays.
In creating this blog, I've always aimed to demystify seasonal eating – to make all kinds of ingredients feel accessible and fresh. So I'm glad to be giving my weekly produce series a little refresh. I hope to make seasonal eating just a bit easier, and possibly, help y'all get excited about turnips after all.
Spring Produce Guide: Late May
Strawberries are still going strong, and with the holiday weekend upon us, it's a great time to make a strawberry dessert. Also in season this week: Hakurei or salad turnips, kohlrabi, radishes, red leaf lettuce, romaine, spicy greens, dark leafy greens, and napa cabbage.
Strawberries
Strawberry season continues! This week, I've pulled together some of my favorite strawberry recipes that also happen to be perfect for a holiday weekend.
Hakurei Turnips
Hakurei turnips, also known as Japanese or salad turnips, are a mainstay of CSA shares this time of year. They are tender and delicious when eaten raw, and entirely free of the bite and bitterness of traditional turnips. Here, I have a few recipes that make the most of hakurei turnips, including roasted with a greens pesto and raw as part of a punchy greens salad.
Kohlrabi
Admittedly, I do not have many kohlrabi recipes on this site. That's mostly because I tend to love kohlrabi best sliced thin with lemon and salt. And, this shaved fennel and kohlrabi salad is so perfect, I rarely want to make anything else. Below, I have a couple kohlrabi recipes for you, but you can also peel your kohlrabi and use it much like you would a Hakurei turnip in any of the recipes above. Kohlrabi is also excellent julienned and tossed into any kind of slaw or salad recipe, so keep that in mind for your holiday weekend cookout plans. Need more ideas? Check out this post from Serious Eats.