A January produce guide to what's fresh and delicious right now with tips and recipe inspiration. What's in season in January? Beets, bok choy, blood oranges, grapefruit, tangerines, and other citrus, red cabbage, carrots, turnips, and hardy winter greens.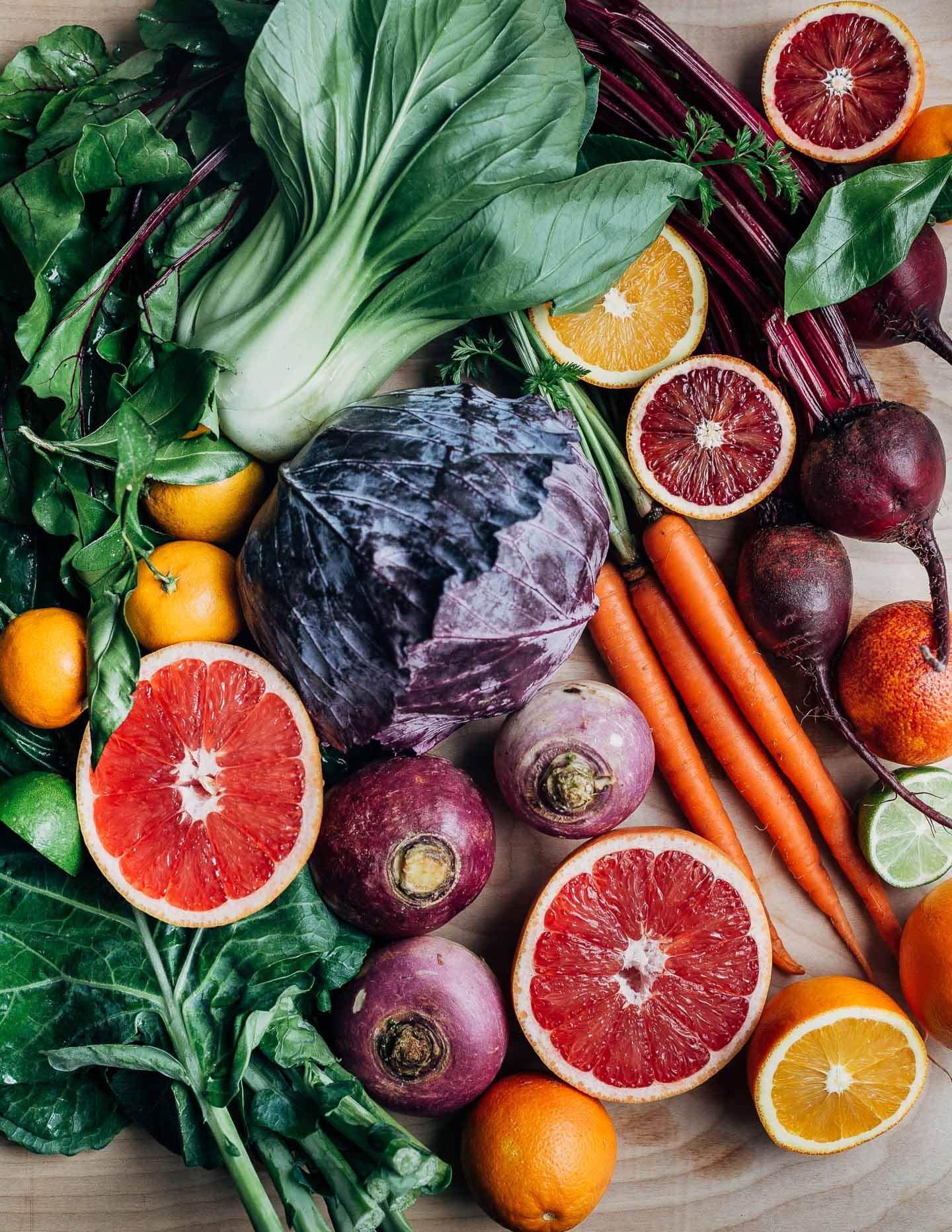 What's in Season in January
The time of year has arrived when I stretch my definition of seasonal eating. As the options available at the famers market dwindle, I turn more and more to the grocery store and ingredients shipped all the way from California, while also trying to make the most of year-round local staples. But even with food coming from much farther away, these cold-weather hardy, in-season ingredients are some of the most flavorful and affordable options.
The bright spot in winter eating is citrus and the January produce guide features lots of it! In season in January, we have all manner of bright sweet citrus from blood oranges to grapefruit to tangerines.
Beets
Like carrots, beets with their greens attached tend to be fresher than storage beets without greens. They have a snappier texture and are less dense and sweet. A bonus is that beet greens can be eaten too – use them like you would chard.
Bok Choy
My garden is currently tucked under a row cover and I haven't been brave enough to see what survived the hard Christmas frost. Up until then, I had a nice little section of bok choy and was enjoying all the things I could make with it. The stuff I was growing in the garden was regular-sized, kind of unwieldy bok choy. If you can find it, opt for more tender baby bok choy or just select the smallest heads.
Blood Oranges
Blood oranges are in season and here to add color to sweet and savory comestibles. Look for firm fruit with a blush of red in the peel.
Cabbage
Cabbage is abundant and delicious right now. Even though it's in season almost all year, I appreciate it more in the winter months. Below, you'll find three red cabbage salad variations that show just how delicious cabbage can be.
Carrots
As I mentioned above, I prefer beets and carrots with greens attached, but feel free to use what you can find or have on hand. I use a vegetable brush instead of a peeler and it has greatly improved my relationship to carrot prep.
Grapefruit
Delightfully bitter grapefruit is one of my favorite with ingredients. Because the bitterness is nicely tempered by sweet and creamy elements, a nice creamy dressing with honey and sliced avocado is a beautiful complement to grapefruit's tang.
Greens
We are still eating our greens. Below, I have a few wintry comfort food recipes that make the most of dark, leafy greens.
Mandarins, Tangerines, and Other Citrus
Wintertime is citrus season and it's an excellent time to experiment with varieties you may not have tried before, Satsuma and other mandarins, tangerines, and Cara Cara all some of my favorites.
Turnips
Winter is a good time to really explore the range of homely root vegetables. Turnips have a bitter edge that lends complexity to rich dishes. Turnips also make for a very tasty fritter. For a sweeter alternative, try rutabagas, or mix the two tubers.