A weekly summer produce guide to what's in season right now based on the contents of our CSA share, with CSA and farmer's market recipes and ideas. This week's end of August inspiration: corn, patty pan squash, poblano and sweet peppers, and zucchini.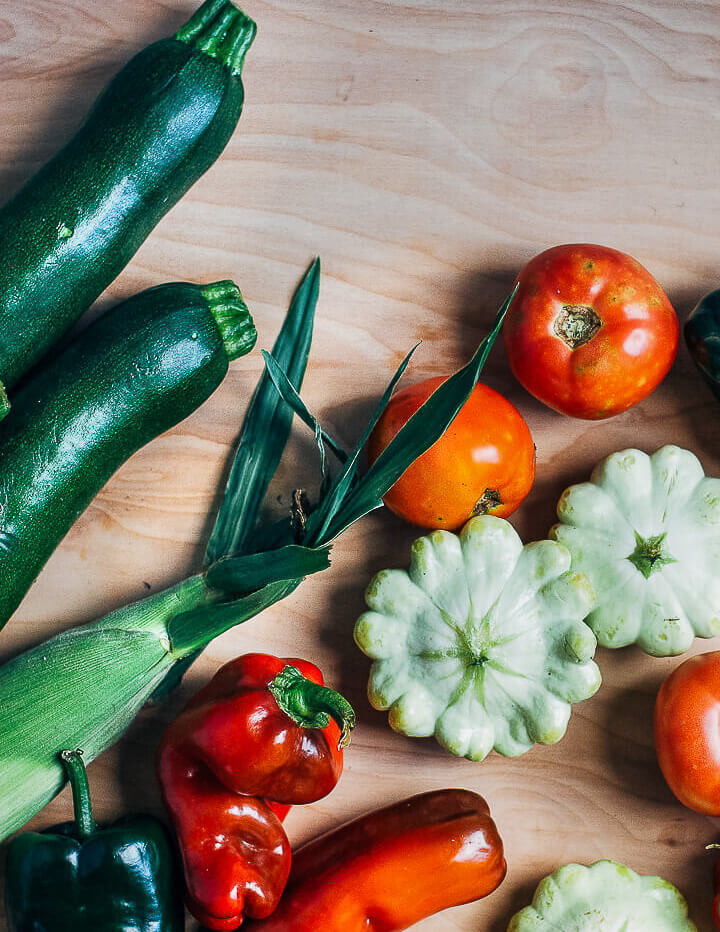 This post was originally published in 2015 and was updated in 2022.
This deep into the growing season, I've found the novelty of slice and eat summer meals has worn off. Now, it's the cooking that's exciting. It started with canning, but continued into sauces, stews, and even roasted vegetables. Right now, summer eating is all about smoky corn and peppers, slow-cooked tomatoes, and tender zucchini. Along those lines, I've rounded up a mix of cooked, roasted, and grilled recipes fitting for a late August feast.
Gather your ingredients and get cooking! (Fall is right around the corner.)
Corn
A thing that happens more and more with corn, is that people feel entitled to shuck it and then discard an ear at the slightest blemish. Friends, farmer's market corn is relatively cheap so instead of destroying a farmer's harvest, consider buying extra corn. I've gotten a gross or wormy ear of corn occasionally, but it's mostly fine. If there are some withered kernels toward the top, just slice them off. You can always use leftovers for a little salad or taco topping.
To achieve the greatest flavor, corn should be harvested and then quickly eaten. It does keep for a while in the fridge, but the sugars turn starchy over time.
Patty Pan Squash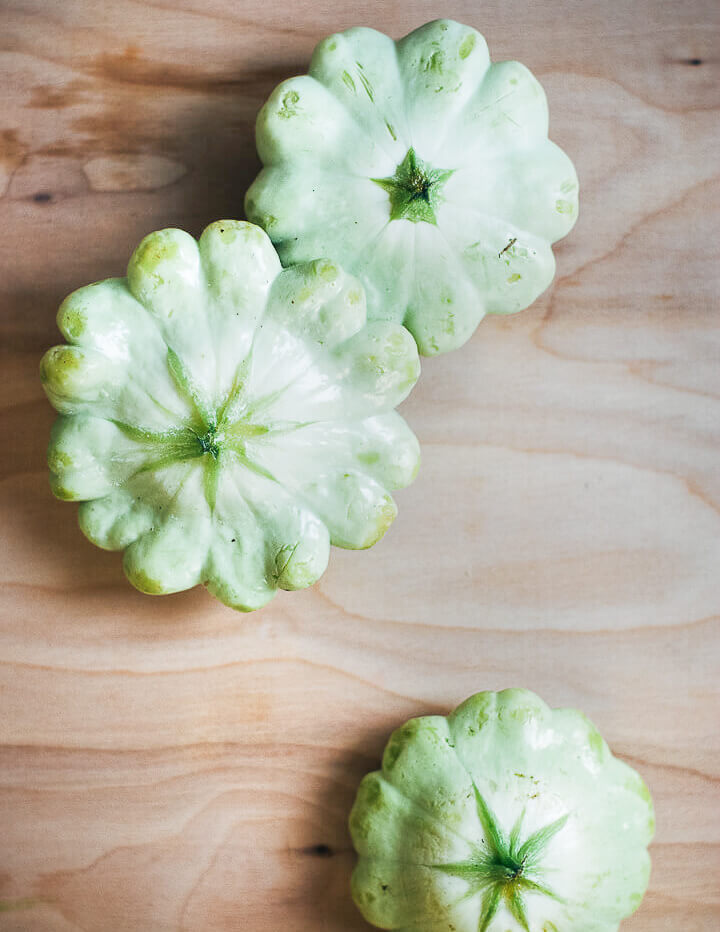 Green or yellow patty pan squash are pretty similar to summer squash, but I do find the flesh is a little firmer and less likely to turn soggy in the sauté pan or oven. Below, I've got a few recipe the feature patty pan specifically, but really, you can swap in patty pan in any of your favorite summer squash or zucchini recipes.
At the market, look for firm, unblemished patty pans. They'll keep well loosely wrapped in plastic in the fridge for a few days.
Poblano Peppers
I love the mild flavor of poblanos and wish I'd diversified my all-jalapeño pepper plants. Look for firm, deep green poblanos at the market. Fresh poblanos have a hint of smoky depth and roasting or grilling is a wonderful way to play that up.
Sweet Peppers
Sweet peppers are a quintessential summer to fall ingredient. Like the poblanos above, peppers are especially delicious when roasted or grilled.