Recipe inspiration and tips for what's in season in August at farmers markets and in CSA shares. The August produce guide features corn, okra, nectarines, summer squash, sweet and spicy peppers, tomatillos, tomatoes, and watermelon.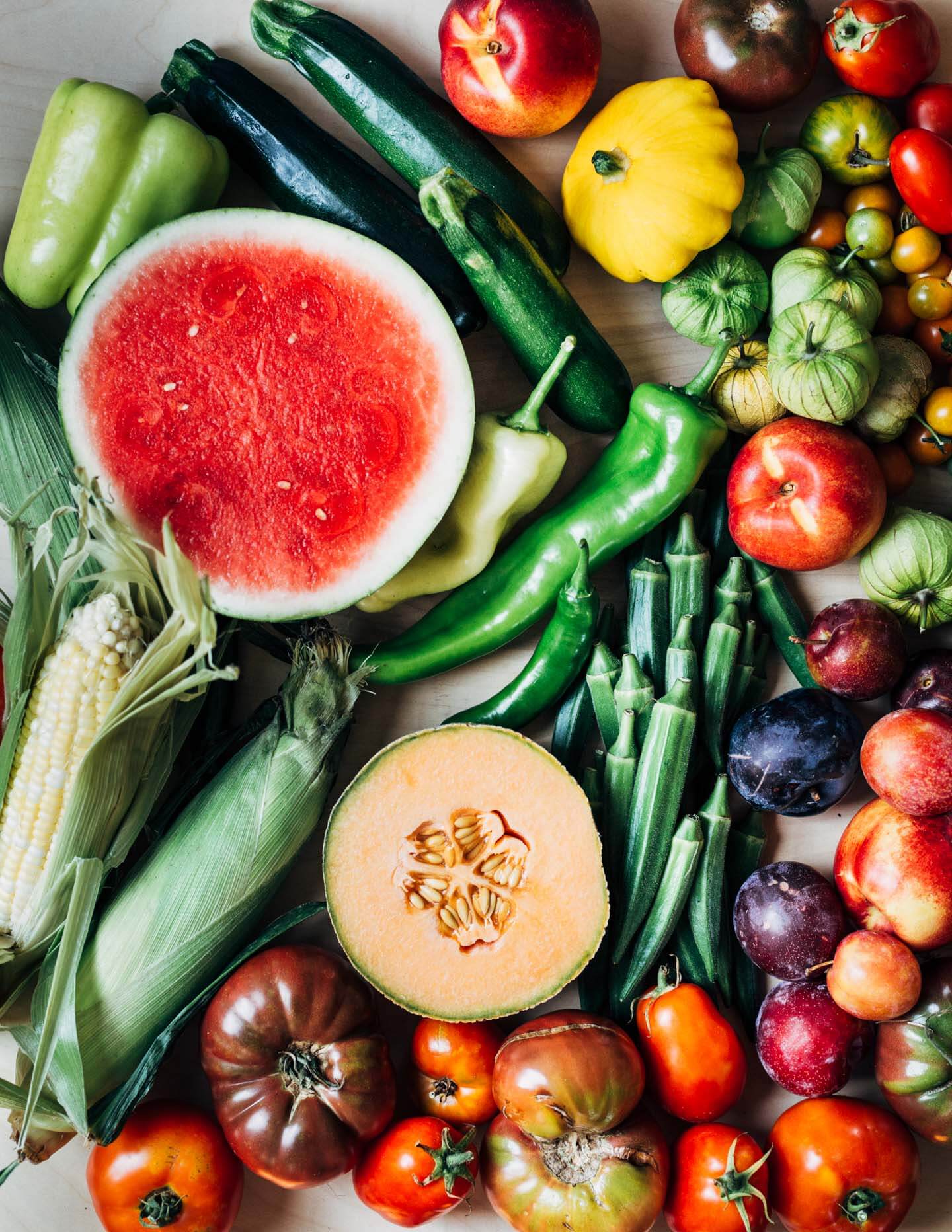 Post updated: August 2023
Get the newsletter
Are you signed up for the Right Now newsletter? It hits inboxes twice a week with exclusive recipes and seasonal ingredient inspiration. Subscribe today!
What's in Season in August
August starts off as full summer, but as the weeks tick by, the weather shifts and we get hints of fall. In Virginia, this means a shift from the steamy, near-daily thunderstorms of July toward dry, clear weather. The thrum of cicadas gives way to a chorus of crickets.
In the kitchen, I shift from slice and eat salads and large-scale preserving, to more creative approaches and generally, more cooking once the heat has ebbed. Soups and stews, tarts and pies, and roasted preparations enter the kitchen conversation and allow me some time to play and experiment.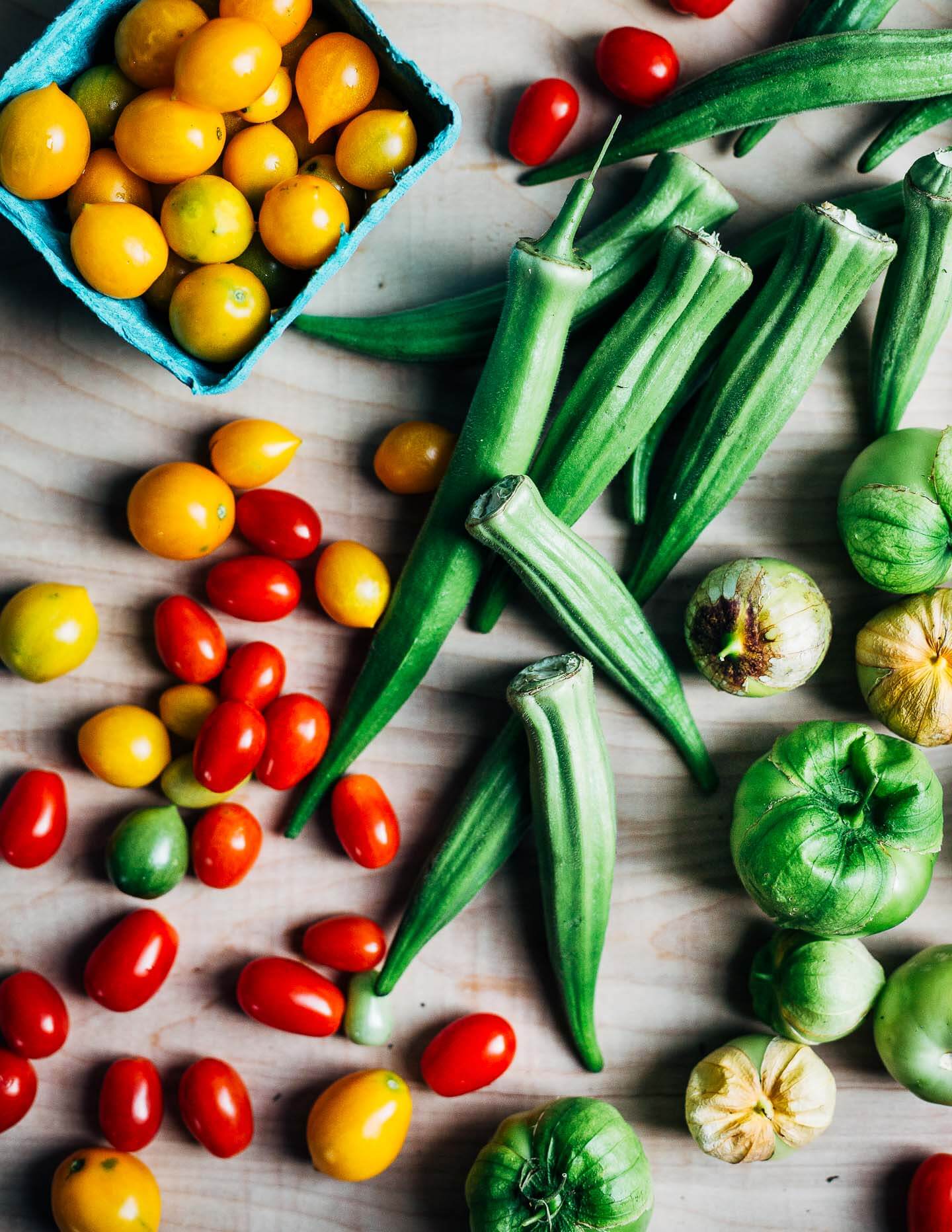 At the Market
After the big tomato harvests dwindle, August can see a bit of a lull in farmers market produce. August staples like peppers and husk tomatoes can be slow to come in, while fall greens are still weeks away. It's a good time to play catch up, get any additional preserving done, and enjoy a small pause from the onslaught of fresh fruits and vegetables.
Of course, there is still plenty of delicious food to be had! Tomatoes, husk tomatoes, okra, and melons are lovely right now. Peaches, nectarines, and plums are in season and delicious. Corn varies by region and weather, but is generally great this time of year.
In the Garden
The garden is utter chaos. A tangle of tomato vines, unchecked green beans, flowers, and weeds. I'm pulling in 10 – 20 pounds of tomatoes a day and just doing my best to keep up with it all. My cucumbers and zucchini are still struggling, but producing enough to justify the space they take up. This weekend, I hope to get some fall seeds in the ground – I'm late but keeping up with the tomatoes has been a full time job these past few weeks.
Cherry Tomatoes
Cherry tomatoes tend to be sweeter and have a little less acidity than slicing tomatoes. They keep well at room temperature and can be added to countless summer dinner plates as a garnish or standalone salad. They also roast beautifully, like in the roasted tomato marinara below.
Corn
A thing that happens more and more with corn, is that people feel entitled to shuck it and then discard an ear at the slightest blemish. Friends, farmer's market corn is relatively cheap so instead of destroying a farmer's harvest, consider buying extra corn. I've gotten a gross or wormy ear of corn occasionally, but it's mostly fine. If there are some withered kernels toward the top, just slice them off. You can always use leftovers for a little salad or taco topping.
For the best flavor, corn should be harvested and then quickly eaten. It does keep for a while in the fridge, though the sugars will turn starchy over time.
Okra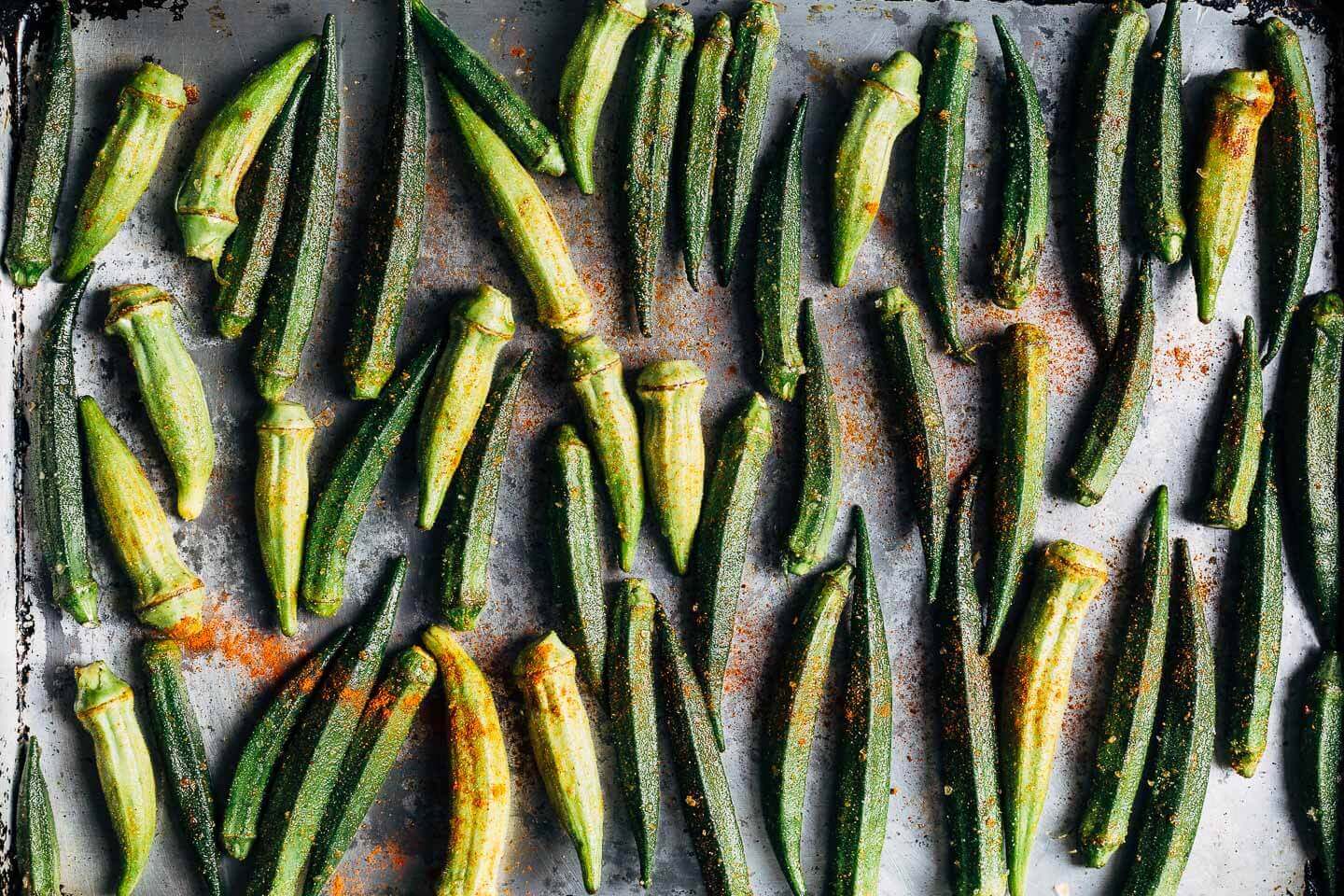 Okra is at its best right when it's picked, so if you get some at the market, make a plan to use it right away. Some people fear okra for its sliminess, but cooked okra is almost never slimy. I recommend cooking it over relatively high heat with plenty of room. Roasted, fried, or simply sautéed, okra is a favorite summer side dish and you shouldn't fear the slime.
Nectarines and Plums
August is an excellent time for stone fruit. Freestone peaches, nectarines, and plums are all ripe and delicious right now. I like to store stone fruit at room temperature, but if you need to buy yourself a bit more time, they'll can be loosely wrapped and kept in the fridge for a few days.
Sweet and Spicy Peppers
Sweet and hot peppers are a quintessential summer to fall ingredient. Peppers are especially delicious roasted or grilled.
Tomatillos
Tomatillo season is upon us. I have a few plants out in the garden and I've had a pretty impressive tomatillo haul so far! I've canned whole tomatillos and salsa verde, and plan to make a batch of Mama E's chowchow next. Tomatillos have wonderfully deep flavor – at once bright and faintly bitter. Try one of the recipes below or make a fresh salsa verde for something quick and simple.
Tomatoes
By August, the allure of a fresh tomato sandwich may have faded. This time of year, I'm thinking about ways to preserve the harvest so the acidic, bright flavor of garden tomatoes will last me all year long. I can a bunch, but also try to preserve tomatoes other ways, like roasting and freezing.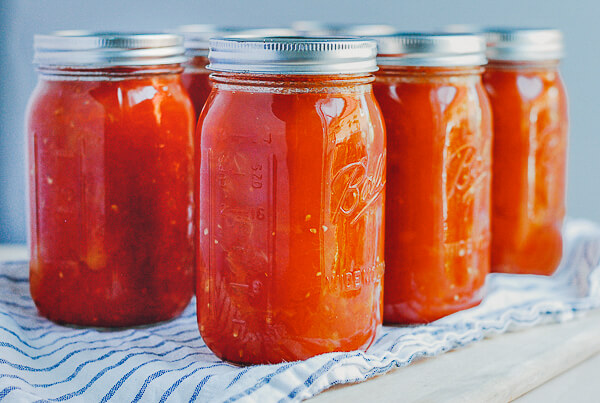 Canning
Other Ways to Preserve Tomatoes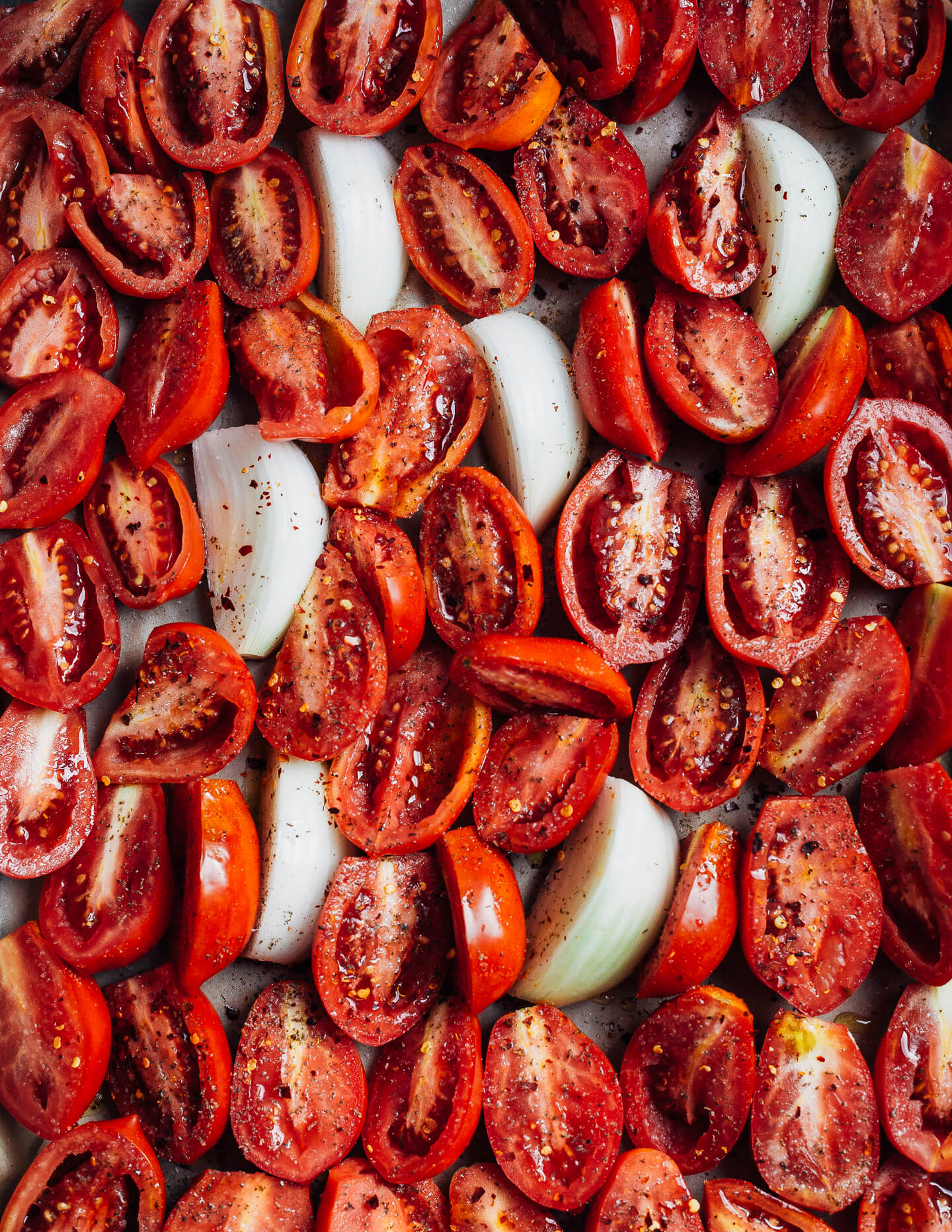 Sauces, Stews, and Other Things that Freeze Well
Watermelon and Cantaloupe
Look for melons that feel heavy and smell fragrant. If you're having trouble selecting the perfect specimen, ask the folks at the farm stand what they look for in a good melon.
Zucchini, Summer Squash, and Patty Pans
Check out the July Produce Guide for summer squash recipe ideas.