A weekly summer produce guide to what's in season right now based on the contents of our CSA share, with CSA and farmer's market recipes and ideas. This week's late August inspiration: ground cherries, purple string beans, tomatillos, and zucchini.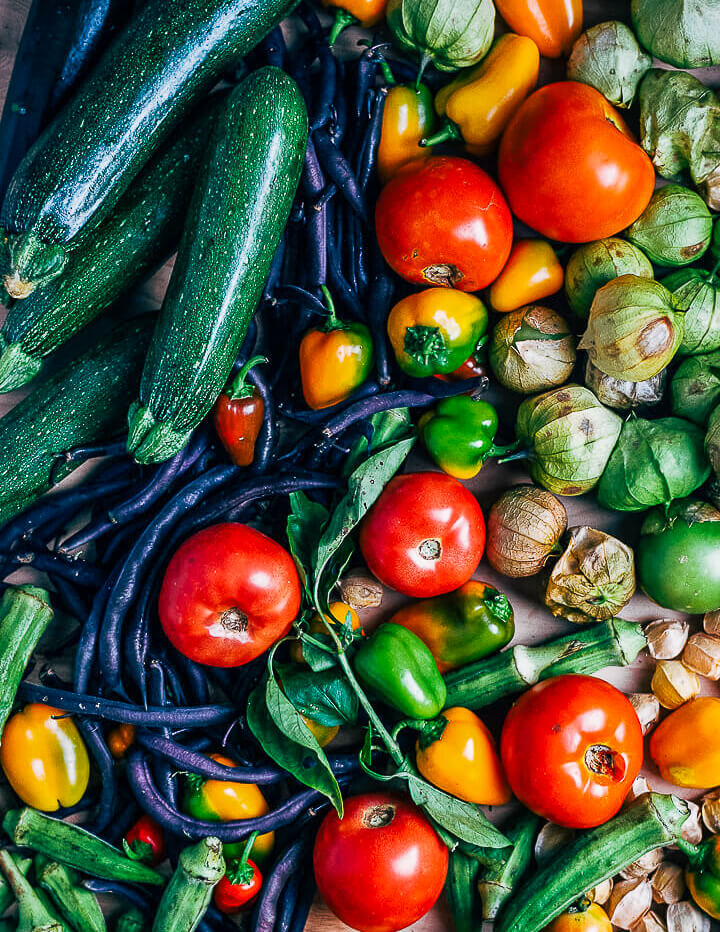 This post was originally published in 2015 and was updated in 2022.
It's late August and the thrum of the crickets outside tells me fall is nearer than we think. It's been an unusual and hard summer for me. I've taken the past few weeks off to spend time with family and grieve our loss. Thanks to everyone who has reached out with words of kindness and support during this difficult time.
But through it all, I've been carting baskets and buckets and bowls of produce in from the garden. Somehow, I managed to keep up with canning the tomatoes and tomatillos. As we edge toward fall, the pace of the harvest has slowed. It's past time to plant my fall crops – lettuces, greens, cabbage, and radishes – and I find myself more than ready for another season, new weather, and a break from this very sad summer.
Late Summer Bounty
Whatever my wishes, fall is still a ways off, and the markets are bursting with late summer bounty. This week's Late August Summer Produce Guide highlights ground cherries, purple beans, tomatillos, and zucchini.
I drove out to our CSA farm on Wednesday in search of tomatillos and whatever else the pick-your-own fields had to offer. Once there, I found tomatillos aplenty, and also a few handfuls of ground cherries. In other rows, I picked sweet lunch box peppers and tender purple green beans.
Fall edged into our share in the form of butternut squash. It sits there as a reminder, among all the late summer jewel tones, that fall is fast approaching.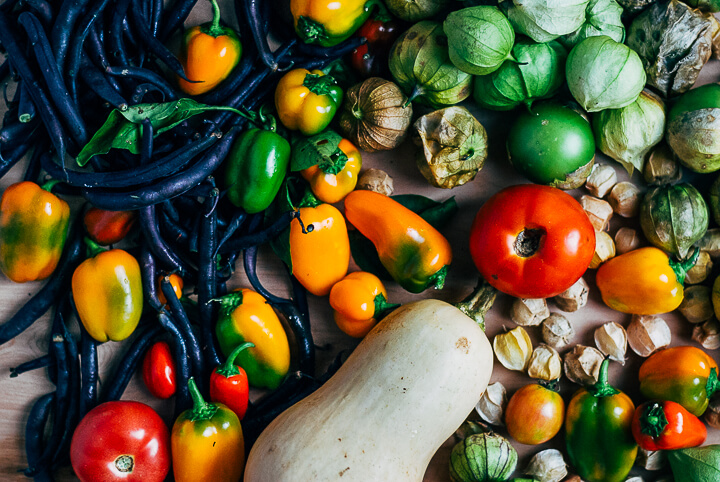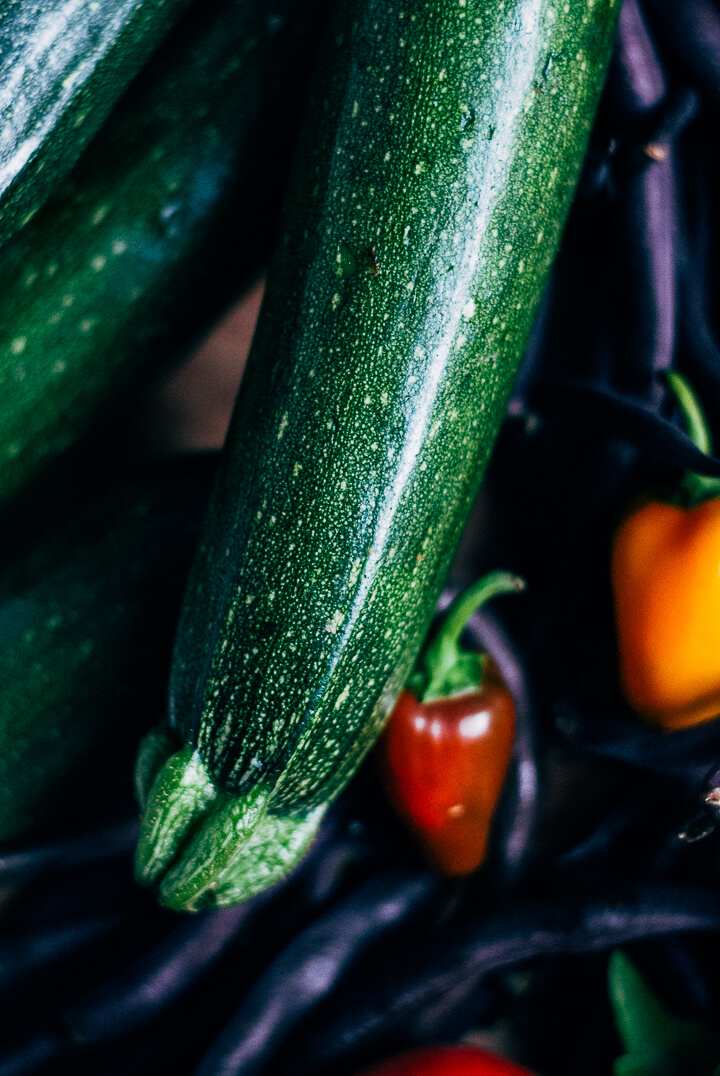 Ground Cherries / Cape Gooseberries / Physalis
Ground cherries were something new to me when I first moved to Virginia. Also known as Cape Gooseberries, or physalis, ground cherries are tiny husked fruits that are similar to cherry tomatoes but much sweeter. Ground cherries are incredibly easy to grow and the sweet fruits are a lovely garnish to summer salads and tomato dishes.
Before eating, be sure your ground cherries are fully ripe. Both the fruit and husk should be pale yellow. If either is tinged with green, just set them on the counter to ripen for a few days.
Zucchini

I'll spare you the zucchini jokes, but if you happen to be swimming in the stuff, here are more than a few recipes to see you through the glut. Sadly, I have a mole population that seems very fond of zucchini roots, so for the second year in a row, I lost my zucchini plants just as they were starting to really produce.
Please note that this zucchini bread recipe from Not Without Salt (adapted from The Walrus and The Carpenter cookbook) is the absolute best zucchini bread ever. Make it immediately.
Green or Purple String Beans

Tender string beans – in green and purple hues – are still available. In my garden, I have only the tough, gigantic kind and have started making a dish I'm calling 'tough old beans,' wherein the beans are braised in a mix of broth and vinegar until tender. If you have the tough kind too, stewing or braising is a good option. However, if you find the delicate, tender kind, please try one of the dishes below. I've featured green beans in the summer produce guide before, but the purple ones are so pretty, I thought I'd highlight green beans one more time.