A November produce guide to what's fresh and delicious right now with tips and recipe inspiration. What's in season in November? Apples and pears, Brussels sprouts, cranberries, greens, potatoes, pumpkins, sweet potatoes, and winter squash.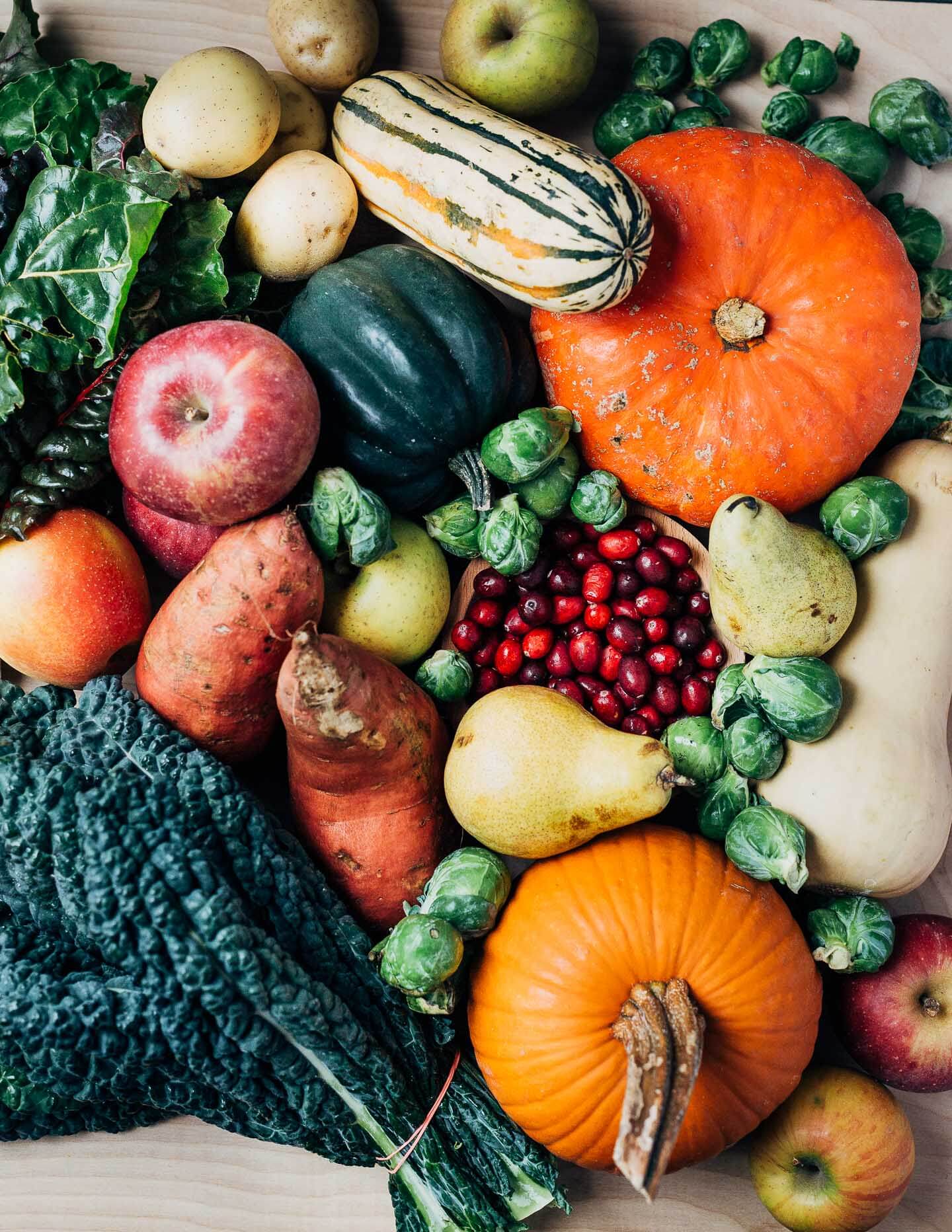 What's in season in November
November is a time for wrapping up the harvest or moving toward hoop or green house gardening for the winter. Mild fall weather has given us a few more weeks of leafy greens, hardy lettuces, and brassicas, while tender roots like beets, carrots, and radishes are still thriving.
As the harvest comes in, it's a good time to enjoy the bounty. Though produce like apples, carrots, squash, and potatoes store well and will technically be "in season" until spring, there are lots of varieties that are more ephemeral like delicata squash, heirloom apples, or new potatoes. Talk to folks at the farmers market and see what you can find.
Apples and Pears
The apple and pear harvest is wrapping up and November is one of the best times to enjoy the full range of flavorful varietals. At the market, look for late apple varieties like Empire and Mutsu and seckle or Asian pears.
Brussels Sprouts
Brussels sprouts are one of those foods that get better with a little frost and will likely be at their peak a little later in the month. For the freshest, best-tasting sprouts, buy them on the stalk and slice off the ones you need for cooking. They keep better this way too.
Cranberries
I love the color and vibrant taste cranberries bring to the table! They make a great sauce, but there are lots of other ways to enjoy cranberries. They can be thinly sliced and added to a salad or added to cakes, pies, or muffins.
Acorn, Butternut, Delicata, Kabocha, Sugar Pie Pumpkins, and Other Winter Squash
Not to sound like a broken record, but there are so many squash varieties and flavors to enjoy this time of year! Delicata squash are just in season for a few months, so now is the best time to enjoy them. Sugar pie pumpkins also have a limited shelf life. If you've never tried making a pumpkin pie from actual pumpkins, this is a great time to experiment. And if you want to get a jump start on your holiday pies, you can prep and freeze the puree so it's ready anytime.
Dark, Leafy Greens: Kale, Swiss Chard, Collards and More

Hard frosts held off in October, meaning that here in the Mid-Atlantic, we still have abundant fresh greens. Besides better flavor and freshness, there's another reason to get your greens from local growers – price. I've noticed that grocery store greens continue to dwindle in quantity and rise in price, but at the Saturday farmers market, I got big bunches of kale and Swiss chard for about 5 bucks a bunch.
Potatoes
Ok sure, storage potatoes are widely available year round, but fresh harvested ones are really special. They boil or steam up beautifully and have a wonderfully creamy texture.
Sweet Potatoes
Sweet potatoes store very well and will be abundant throughout the winter months, but in the spirit of "what grows together, goes together," they're wonderful in a host of classic fall dishes.